March 2, 2021, at 06:00 PM
virtual
The Plant-based Academy: Weight Loss and Maintenance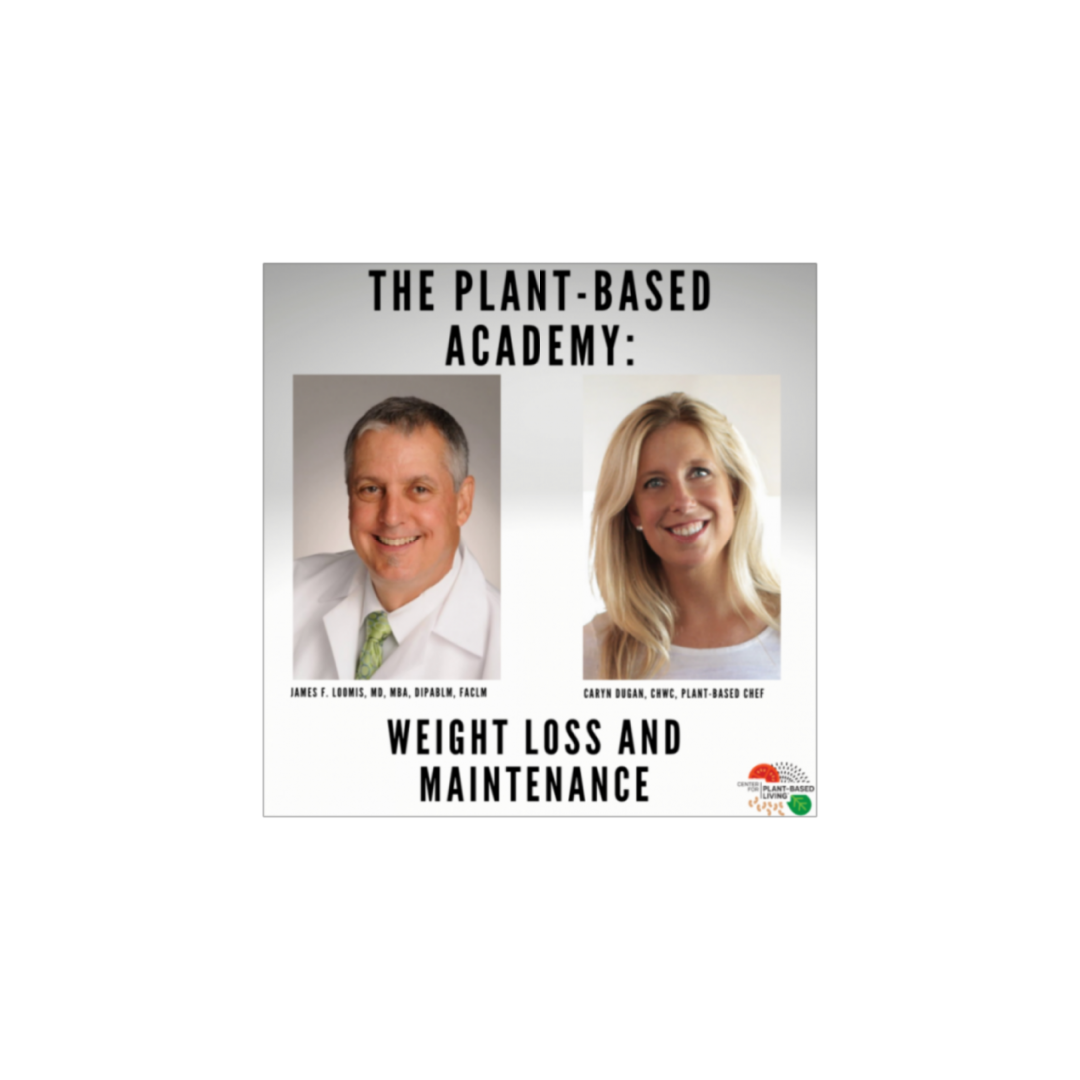 Plant-based Academy: Weight loss and Maintenance (six-week program)
(The cost includes all six-weeks, registration for partial program attendance is not available.)
Struggling to lose weight and keep it off? If the answer is yes, then we can help! This six-week program will help you understand the science behind weight-gain, obesity and weight loss how and how to translate that into easy and delicious meals your whole family will love. We understand there are many ways to lose weight, but at what cost? Many diets that lead to weight loss are not healthy over the long run and often lead to regaining the weight down the road. Please stop sacrificing your health to get into those skinny jeans.
Dr. Jim Loomis, MD and Caryn Dugan, Plant-based Chef + CHWC, will provide you with a roadmap on how to lose weight, keep it off and improve your overall health; you will learn the why from Dr. Loomis and the how from Caryn, which makes this program truly unique, sustainable, safe, and health promoting.
 This program will be delivered via ZOOM Webinar. Each week will consist of a 90-minute session, including presentations from Dr. Loomis and presentations and cooking demos from Caryn, followed by a Q & A. Questions will be in the form of chat and will be answered in real time.
This is a brief overview of what will be covered:
Week 1:
  LOOMIS: How and why the obesity epidemic has occurred
  DUGAN: Kitchen prep / oil-free cooking demo / equipment review 
Week 2:
   LOOMIS: Setting up for success by addressing emotional eating, cravings and social support
   DUGAN: Grocery store shopping, label reading, pantry staples
Week 3:
   LOOMIS: The science of your food: nutritional reductionism, macros v. food, supplements, calorie + nutrient density, intermittent fasting and more.
   DUGAN: Breaking the fast with the first meal of the day
Week 4:
   LOOMIS: Gut microbiome and fiber
   DUGAN: No-time quick lunches
 Week 5:
   LOOMIS: What about protein? How about calcium, iodine, vitamin D and so many others.
   DUGAN: What's for dinner?! Getting in all the nutrients.
Week 6:
  LOOMIS: Putting it all together - how to talk with your friends, family, and healthcare providers. Social situations and traveling.
DUGAN: Batch cooking, 30 minute meals, snacks and meal sharing
This incredibly powerful program offering up-to date science and new recipes in a truly unique format by offering information from both Dr. Loomis, a Lifestyle Medicine Physician and Caryn Dugan, a Certified Health and Wellness Coach, plant-based chef and owner of the Center for Plant-based Living, will give you the tools to take control of your health and aim toward your achievable weight.
This valuable and comprehensive program gives you weekly access to both a physician and a chef. You will receive all presentation materials, recipes, and a link to access all six programs indefinitely. There are a lot of weight-loss programs out there, but the team of two experts to help you understand the why and follow it up with the how does not exist. Until now.
24 hours before each class attendees will receive a ZOOM link, the PDF of the presentations and the recipes to follow along.
On the following dates we will be meeting virtually from 6:00-7:30 pm CST.
3/2, 3/9, 3/16, 3/23, 3/30, & 4/6.
Was this event as much fun for you as it was for me?
Leave a Reply