February 23, 2021, at 06:00 PM
virtual
Cooking with Ann and Jane: Easy plant-based meal building for the newbie - Join us for this virtual and FREE event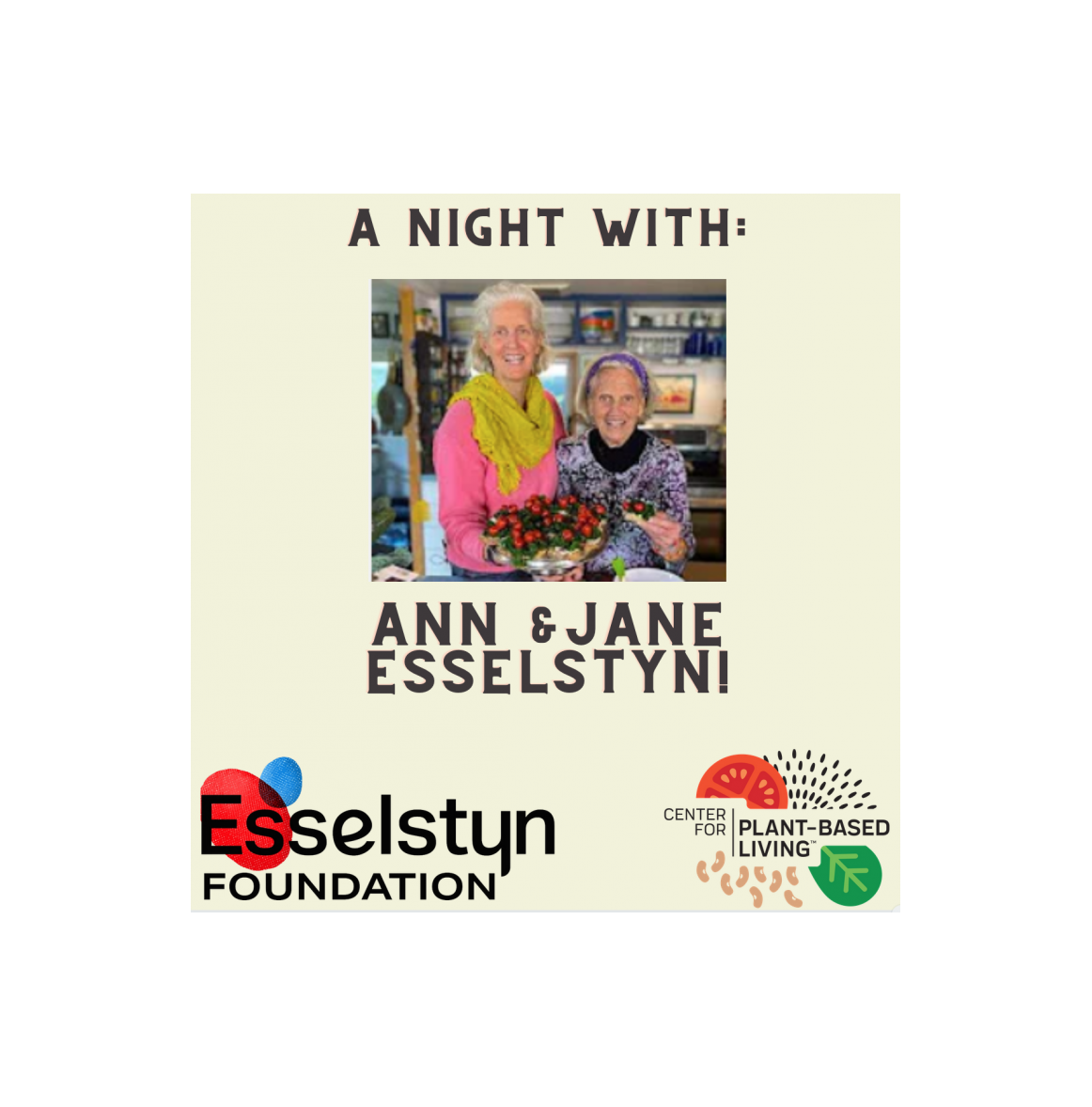 Flats and Bowls: The Foundation of a Plant-Based Diet with Ann and Jane Esselstyn
YouTube sensations Jane Esselstyn, RN and Ann Esselstyn, M.Ed., co-authors of the 'Prevent and Reverse Heart Disease Cookbook,' will explain and demonstrate the core principles of cooking to prevent and reverse disease. They will specifically focus on the "bowls and flats approach," the no-hassle way to get more plants in your diet and transform your health. Special attention will be paid to easy and cheap techniques that require minimal time and planning.
Ann Esselstyn, M.Ed.
Ann is an author, educator, and motivational speaker in the plant-based arena. She graduated from Smith College and received a master's degree in education from Wheelock College. Ann taught English and some history for 27 years at Laurel School in Ohio. She stopped teaching in 2000 to focus on creating delicious and healthy recipes to prevent and reverse heart disease, and counseling patients with her husband, Dr. Caldwell Esselstyn, on how to follow a plant-based diet. Through the years, she juggled raising four children, teaching, and figuring out plant-based, oil-free ways to cook. Ann developed the recipes for the New York Times Best Seller, Prevent and Reverse Heart Disease and in 2014 she wrote The Prevent and Reverse Heart Disease Cookbook with her daughter Jane Esselstyn.
Jane Esselstyn, RN
Jane brings her perspective and passion as a woman, nurse, researcher, and mother to creating on-ramps to the plant-based way of life. She is an avid and inventive designer of plant-based recipes and the co-author of The Prevent and Reverse Heart Disease Cookbook with her next-door neighbor and mom, Ann, and The Engine 2 Cookbook with her brother, Rip. She also created the recipe section of #1 New York Times Best Seller, Plant-Strong by Rip Esselstyn. The Journal of Pediatrics recently published the study she worked on with the Cleveland Clinic, which observed the effects of a plant-based diet on pediatric obesity. A tireless champion for families and their health, Jane brings remarkable clarity, compassion, and humor to the table and presents a no-nonsense approach to raising plant-strong families.
Was this event as much fun for you as it was for me?
Leave a Reply