Creamy Butternut Squash Soup with Ginger and Coconut Milk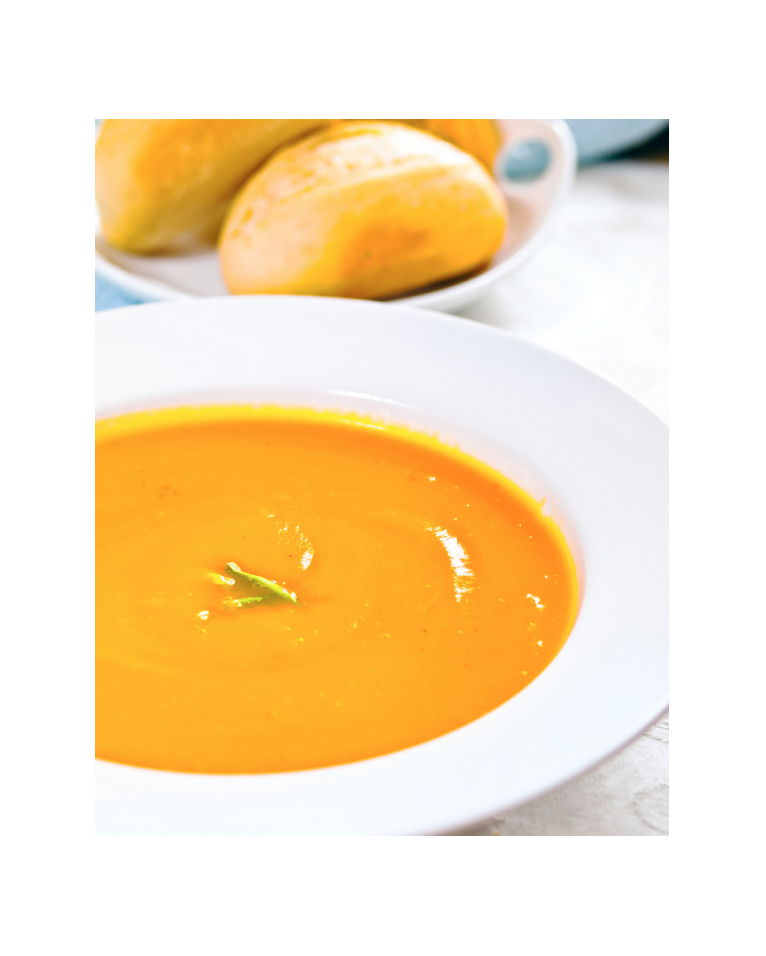 Early fall, and bring on the squash! A burst of orange and zing of ginger adds a nice brightness to our early fall days.
Ingredients
Setup
1 large shallot, minced
3 stalks of celery, sliced vertically down the middle and then cut into 1/8" slices
½" ginger root, minced
1 butternut squash, cut to cubes (I buy the pre-cut)
3 cups vegetable broth
Juice of one orange
1 can coconut milk
Salt + fresh ground pepper to taste
Directions
In a large, preheated pot, add the shallot and celery, and begin your dry saute. Add a few drops of water or broth as needed for sticking.  Add in the ginger and continue to cook for about 2 minutes more. Add in squash and broth and bring heat down to a simmer. Cover and cook for 30  minutes. Add the orange juice, stir and take off heat. Using an immersion blender, puree the soup until smooth. Add in the coconut milk and salt and pepper, return to heat. Stir until well combined and heated thoroughly.
TIP:
If you want to cut down on some of the fat from the coconut milk, in a sauce pan over a simmer, combine another plant based milk beverage like soy or oat with a little bit of coconut extract (to taste). In keeping a thicker consistency, I would not recommend rice or hemp milks.  
_____________________________
Become a Member! 
Our membership, The Center for Plant-based Living Virtual Community Support Club, is active!! At only $30/month you will receive:
All virtual monthly cooking classes
Complete library of past virtual cooking classes + all recipes (located in the private Facebook group)
Access to private Facebook group
Monthly accountability check-in and support group Zoom call
20% off all virtual multi-week programming
Check our website  for more information.
How did this recipe work out?
Leave a Reply