The Ultimate Summer Salad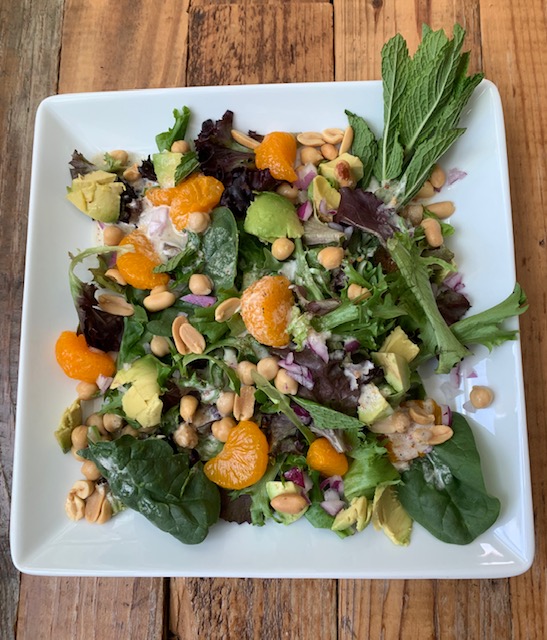 Bursting with citrus, balanced with herbs and earthy tones, this light and yet filling salad says that summer has arrived.
Ingredients
Setup
1 14 oz can of low sodium chickpeas, drained, aquafaba (bean juice) reserved
1 6 oz can of mandarin oranges, drained, (juice reserved)
juice of 1/2  lime
1 teaspoon tahini
2 tablespoons of minced fresh herbs (basil, tarragon, rosemary, oregano-whatever you have)*
3 large handfuls of fresh greens, like romaine, Boston bibb, spinach, baby kale, or other light textured, dark leafy
2 sprigs of mint leaves (one sprig minced, one used for garnish)
2-3 tablespoons of minced red onion
1/2 avocado, sliced to 1/4" cubes
2 tablespoons of unsalted peanuts
Directions
To a small bowl, add two tablespoons of aquafaba, 3 tablespoons of the mandarin orange juice, tahini, lime juice and the herbs. *If you don't  have fresh herbs on hand, add 1 tablespoon of any dried herb blend you have. I personally enjoy the Trader Joe's Seasoning Salute.). Whisk all the ingredients well. I like to pour everything into a mason jar and use my immersion blender to get a really great blend. Set aside.
To a large serving plate or large bowl, start making your salad. Greens, 3/4 cup of  chickpeas, 2/3 cup of mandarin oranges, mint leaves, red onion, avocado and peanuts. Drizzle on the dressing to taste and stick that last sprig of min in the corner for a cute little garnish.
_______
If you'd like to make this salad even more robust I'd also add 1/2 cup or quinoa, brown rice or farro.
Save time shopping!
Here are some tried and true kitchen wares that I really like!
How did this recipe work out?
Leave a Reply