Maple Glazed Gingerbread Doughnuts with Pecans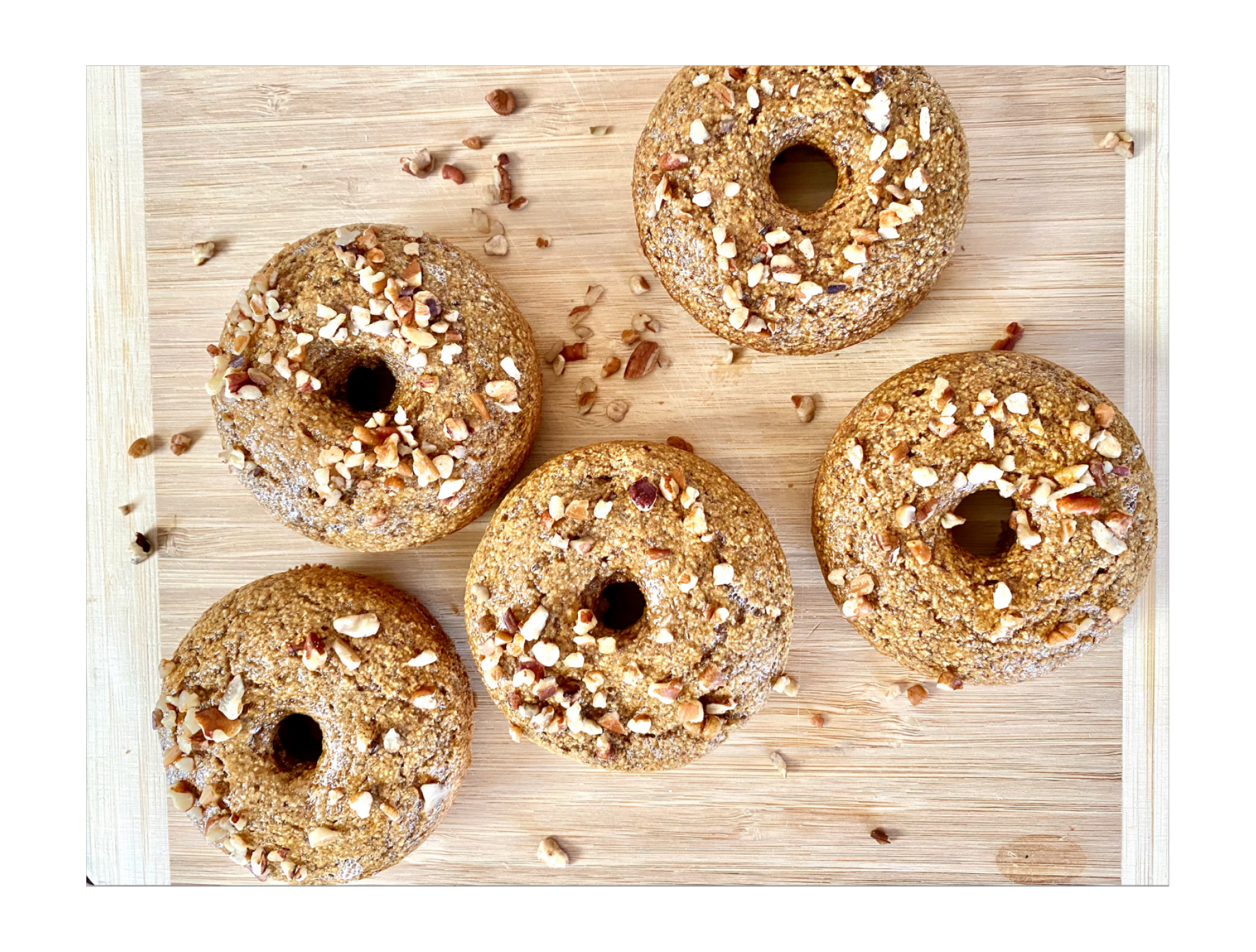 Nothing says Christmas like the undeniable scent and flavor of gingerbread. And, who doesn't like a doughnut?! Let's put them together, dunk in our coffee and start opening presents!
Ingredients
Setup
DRY
1 1/2 cup oat flour
1 teaspoon baking powder
1 teaspoon baking soda
3/4 teaspoon of each: cinnamon, ground cloves, ground ginger
1/4 teaspoon nutmeg
1/4 teaspoon salt 
WET
1 tablespoon ground flax
3 tablespoons applesauce
1/2 cup plain and unsweetened plant-based milk of your choosing
1/3 cup maple syrup
1/4 cup creamy almond butter
2 heaping tablespoons molasses
1 1/2 teaspoons vanilla extract 
GLAZE
1 cup pure maple syrup
1 cup powdered sugar
1/2 teaspoon powdered ginger
Pinch of salt
1–2 tablespoons plant-based milk
TOPPING
Directions
Pre heat oven to 350.
DOUGHNUTS
To a large mixing bowl, add the dry ingredients and mix well.
Mix the flax and the applesauce in a small bowl and allow it to sit for 5 minutes. Add the rest of the wet ingredients to another bowl, whisk, then add the flax mixture and mix again. I have found that I need to use a blender for about 10 seconds if the almond butter is very thick.
Pour the wet ingredients into the dry and stir until well incorporated.
Scoop the batter into the doughnut wells, about 3/4 of the way up.
Bake for 15 minutes.
Allow doughnuts to cool for 5 minutes before placing them on a cooling rack.
GLAZE
Place the maple syrup in a sauce pan over low heat and allow to reduce by one-half.
Whisk powdered sugar, ginger, salt, and 1 tablespoon milk in a small bowl until smooth. Whisk in reduced maple syrup and another 1 tablespoon milk if needed. Glaze should be about the consistency of heavy cream.
When doughnuts are completely cool, dip them into the glaze and top with chopped pecans.
Makes 8.
This is the doughnut pan I use.
Visit our plant-based store on Amazon for more resources and kitchen tools.
(The small amount we receive from goods sold from our store go directly to help pay overhead at the Center for Plant-based Living. Prices have not been increased to compensate for this service. Thank you for your support.)
___
Do you know about our virtual membership?  We call it the Center for Plant-based Living Community Support Club and we'd love to have you!
As a member you get:
Complete library of past virtual cooking classes + all recipes
Library of easy and quick recipes: 100 and growing
Access to private Facebook group
Monthly accountability check-in and support group Zoom call with Caryn
Quarterly "Ask the Doc" call with Dr. Jim Loomis, our Medical Director
20% off all virtual multi-week programming
A community of support
To learn more, please visit us here.
Video
How did this recipe work out?
Leave a Reply