Kale Tahini Salad with Vegan Feta Cheese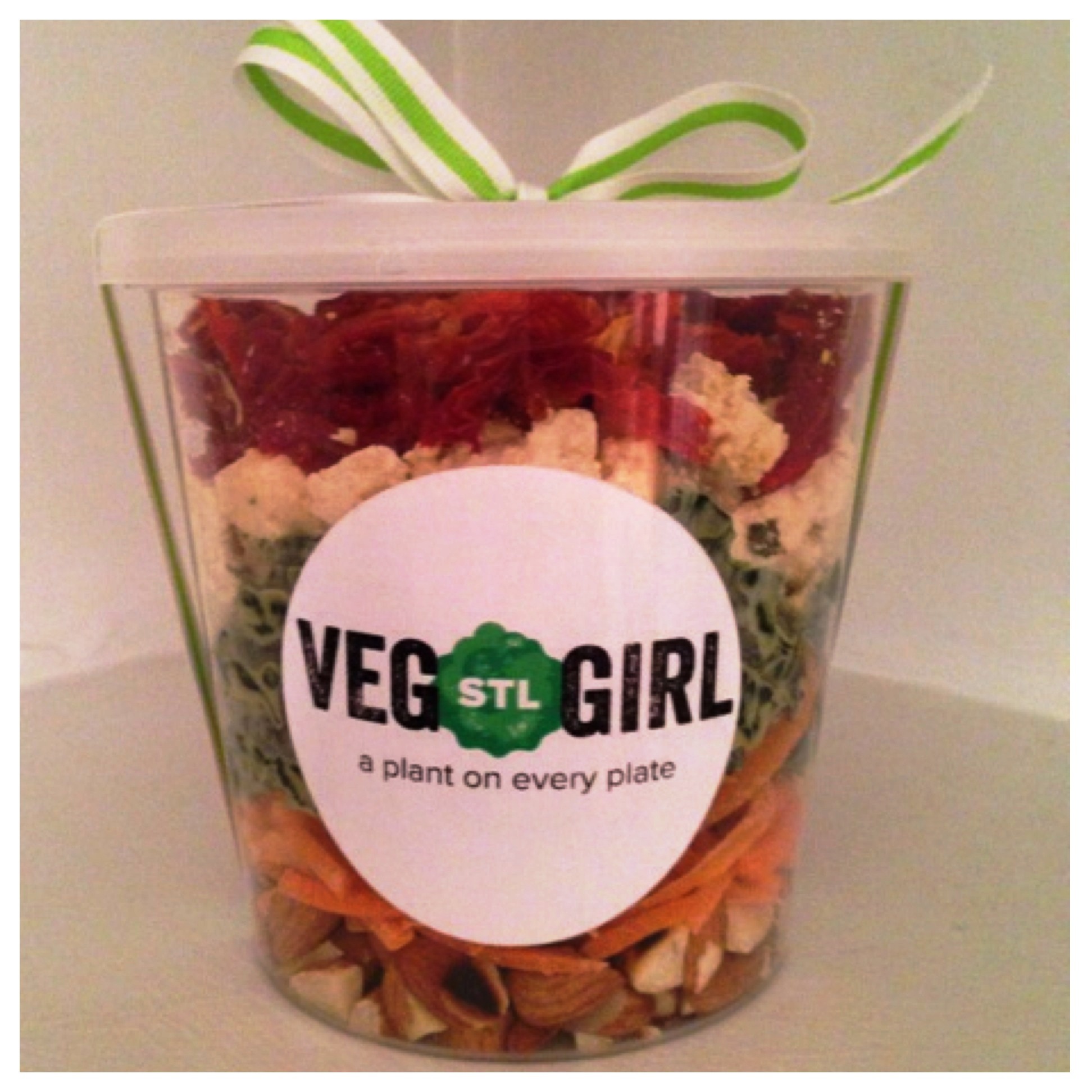 The veg-gasmic salad of all salads!  It's sweet, no, it's salty, no, it's creamy, no, it's crunchy.....   I've been making this salad for years and offering it up to my classes, clients, family members, etc...  The myriad of flavors is really pretty good, but the truly awesome thing about this salad is that it teaches people that they REALLY can like kale!  This particular tahini dressing is pretty bad ass, but you can take any one of your favorites and watch your kale-weary friends soon shout, "Oh Kale Yeah!" after you do this ONE SIMPLE STEP:
Massage the dressing into the leaves.
Watch the leavse become bright green, they will become soft (just like you after a massage), and bingo! it's ready. 
Ingredients
Setup
The Salad
2 bunches of kale, julienned
1 C  shredded carrots
½ C roasted almonds - chopped
½ C "feta cheese" (recipe follows)
½ C sundried tomatoes (optional)
1lb small red potatoes, boiled and quartered (optional)
The Dressing
1/3 C  water
1/4 C lemon juice
2 TBS C olive oil
1/4 C TBS tahini paste
2 TBS wheat free tamari
2 cloves of garlic-peeled
2 TBS C brown rice syrup
The Vegan Feta
1lb extra firm tofu
2 TBS water
4 tsp white miso paste
¼ C red wine vinegar
1 TBS lemon juice
1 tsp salt
2 tsp dried basil
1 tsp dried oregano
½ tsp dried rosemary
2-3 TBS nutritional yeast flakes
Directions
Prepare the feta
Break tofu into a few large pieces in a mixing bowl and set aside. Whisk all remaining ingredients, except nutritional yeast, together. Pour over tofu and mix with your hands, crumbing the tofu into smaller pieces as you go. Set aside and let rest for 10 minutes. Sprinkle nutritional yeast over top and mix. Taste, adding more nutritional yeast if desired.
Prepare the salad and make the dressing
Wash kale well.  De-stem (optional), stack, roll and cut leaves into thin strips.  In a blender, mix dressing ingredients until smooth and massage well into kale leaves.
Toss all salad ingredients in with kale, except the potatoes.  After you prepare the salad, place the potatoes on the side, they give it that "egg" softness and texture compliment to the salad. Top with vegan feta cheese and serve. 
How did this recipe work out?
Posted by
New
on
May 3rd, 2021
Thank you hon it was my first time with raw kale and it kinda tasted a llitte too much like parsley for my liking. I will try massaging it next time. If I can stop laughing long enough to do it (massaging your food wtf!!??!) xx
Leave a Reply