Chocolate-y Sweet Potato and Walnut Muffins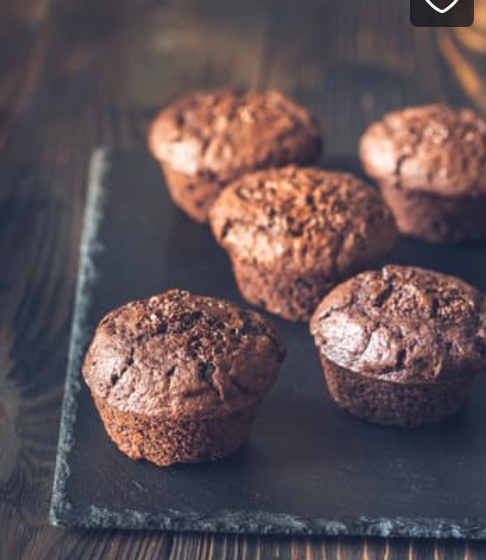 Holy moly these are tasty muffins! Get a dose of beta-carotene, omega-3 and serious anti-oxidants in these tasty, cute little guys!
Ingredients
Setup
2 14 ounce cans of pureed sweet potatoes (3 cups)*
1/2 cup maple syrup
1/4 cup pain and unsweetened dairy-free milk
2 tablespoons vanilla extract
2 cups oat, spelt or whole wheat flour - sifted
1/2 cup cacao powder
1 tablespoon baking powder
1 teaspoon baking soda
1 1/2 teaspoons ground cinnamon
pinch of sea salt
1 cup chopped walnuts
1/2 cup cacao nibs + 1/4th cup for topping**
Directions
Preheat oven to 375
In a large mixing bowl, add the sweet potatoes, maple syrup, dairy-free milk and vanilla. Mix well.
In a separate bowl, add the flour, cacao  powder, baking powder and soda, cinnamon, and salt. Whisk well.
Transfer the dry ingredients into the wet ingredients bowl and stir until well mixed. Fold in the cacao nibs and walnuts.
Line a muffin tray with paper or silicone liners.
Scoop batter into each muffin cup, about 3/4th of the way up.
Sprinkle remaining cacao nibs on top
Bake for 27-30 minutes. Test done-ness y sticking a toothpick in the center of a muffin. When it comes out clean, transfer those suckers to a cooling rack and try to wait until they cool (good luck!) before noshing.
*You could also cook 4-6 sweet potatoes and mash to a puree. Using canned pumpkin puree will also work.
**If you cannot find cacao nibs, dairy-free dark chocolate chips will work.
___

Check out our latest classes: https://www.cpbl-stl.com/classes
To purchase some of the kitchen tools I use here https://tinyurl.com/yyacj2cg
To subscribe to the weekly Plant-based Quick Cooking Show: https://www.youtube.com/channel/UCExWwoBh6fvdOgghkjh0U1A?
Thanks for all of your support!
How did this recipe work out?
Leave a Reply