Cheesy Air Fried Broccoli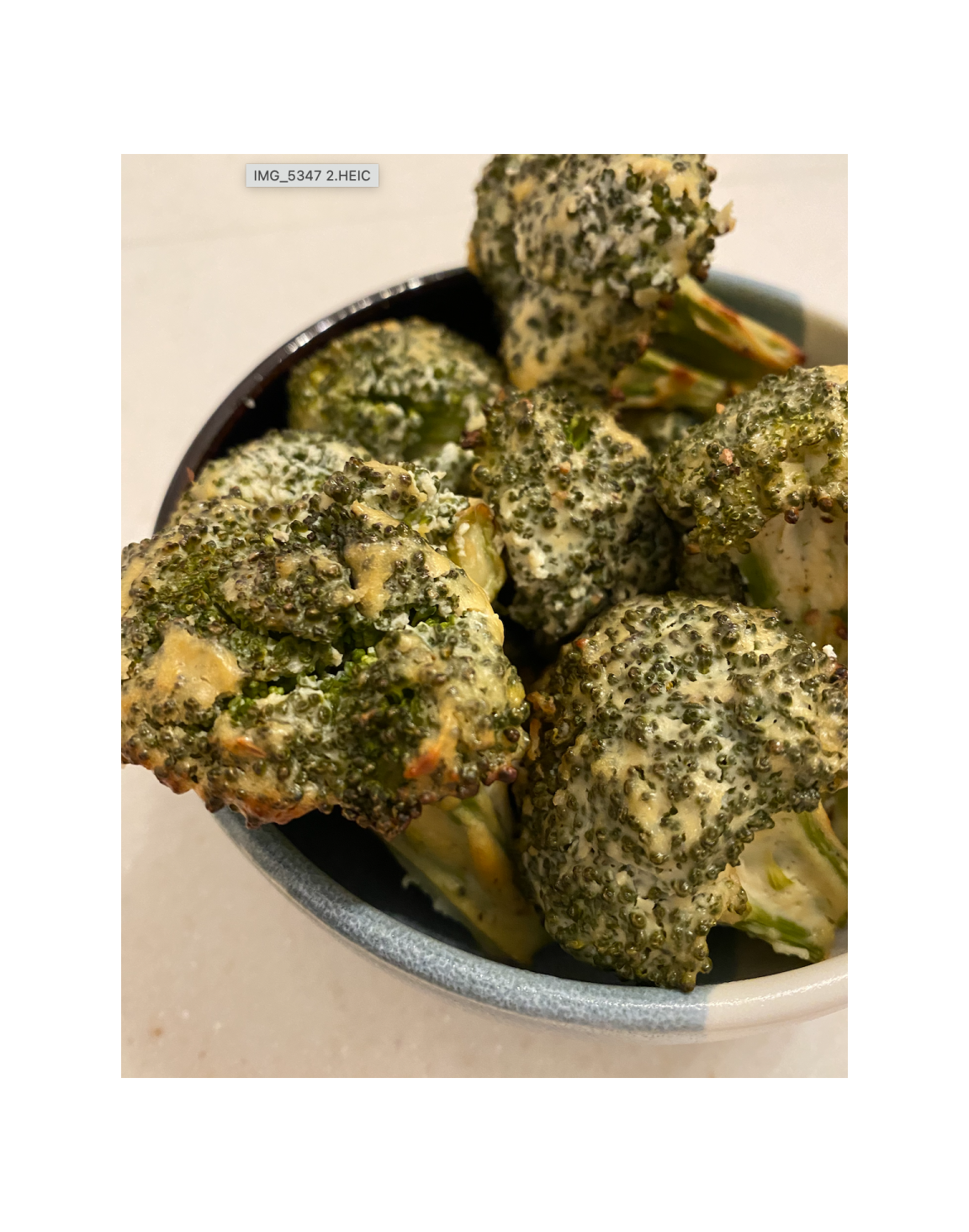 If this doesn't get them to eat broccoli, I think I'm going to quit. Seriously, this air-fried, baked on, cheesy brocc is so dang delish you'll be making it every night for the foreseeable future.
Ingredients
Setup
1 bunch of broccoli, cut to florets at least 40 minutes before you begin this recipe*
1 12-ouncepackage of firm, silken tofu
1/3 cup raw cashews**
2-3 tablespoons nutritional yeast
1 tablespoon mild miso paste
1 teaspoon granulated garlic
juice of 1/2 lemon
pinch of salt and pepper
3/4 cup of water - divided
Directions
*Cut your broccoli to florets at least 40 minutes before making this to get maximum health benefits. Shoot, you're making this delicious recipe, you might as well get some MAJOR cancer fighting benefits while you're at it. Chop that broc and as time passes, sulforaphane develops and your immune system will thank you for continual hand in fighting cancer.
Here's what MD Anderson says about sulforaphane.
Here's what Dr. Michael Greger says about sulforaphane, how it develops in food and why it's a great breast cancer fighter.
Back to the recipe:
To a blender, add the tofu, cashews, nutritional yeast, miso, garlic, lemon, salt + pepper and 1/4 cup of water. Blend until smooth and creamy. You'll drizzle in a little more water while blending to get things moving. Sometimes I find myself using all 3/4 cup, sometimes, just 1/2 cup. Have it ready if you need it.
In a large mixing bowl, pour the sauce over the broccoli, mix well with your hands and chill in fridge for an hour. Transfer the broccoli to your air fryer and bake for 12 minutes at 400-degrees.
Enjoy!
** If you don't have a high-speed blender, simply soak the nuts for an hour or boil for 15 minutes. Drain and use.
___
Some things happening at the Center for Plant-based Living:
1. Check out our latest classes: https://www.cpbl-stl.com/classes
2. To purchase some of the kitchen tools I use https://tinyurl.com/yyacj2cg
3. To subscribe to the weekly Plant-based Quick Cooking Show: https://www.youtube.com/channel/UCExWwoBh6fvdOgghkjh0U1A?
It's here!!! Join our new virtual membership!
Thank you for your continued support!
How did this recipe work out?
Leave a Reply