Caryn's Summertime Stew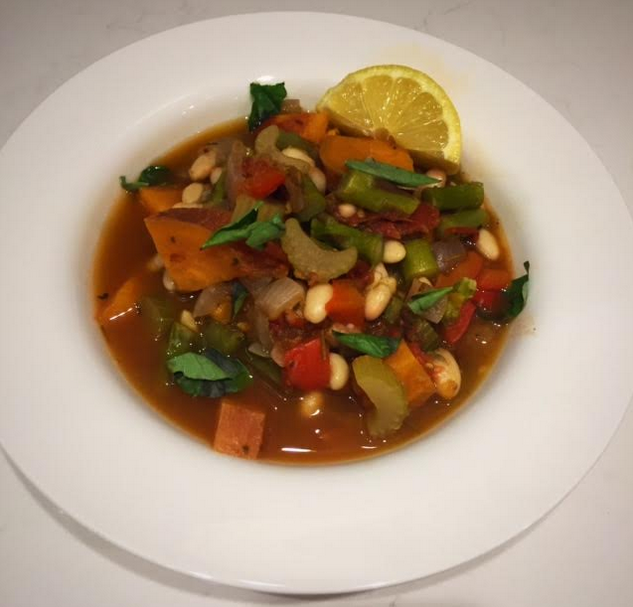 I love this hearty, yet light stew that introduces summer's harvest! The squash pulls it all together, bringing the soup to a stew-like consistency and the lemon at the end brightens it all up. I hope you like it as much as I do!
Ingredients
Setup
1 acorn squash
1 yellow onion
3 stalks of celery
4-5 cloves of garlic
1 red bell pepper
1 green bell pepper
1/2 large bunch of asparagus
1 large (or 2 small) sweet potatoes
2 cups of vegetable broth
2-3 large tomatoes (heirlooms are nice if available)
1 1/2 cups (14 oz can) of cannellini beans (low sodium)
2 tablespoons fresh oregano (or 1 tablespoon dry)
1 tablespoon fresh thyme (or 1/2 tablespoon dry)
1/2 tablespoon fresh rosemary (or 1/4 tablespoon dry)
Sea salt (optional) and fresh ground pepper to taste
1 lemon
Fresh basil and Italian parsley for garnish
Directions
Preheat oven to 450-degrees F.
Cut acorn squash in half, remove the seeds with a spoon and dust the inside of the squash with salt and pepper. Fill a baking dish with water so that it is only covering the bottom and place squash, cut side down, in dish. Bake for 40 minutes.
Prepare the produce:
dice the onion
wash and cut the celery in 1/4" slices
mince the garlic
Roughly chop the peppers (remove seeds)
Cut rough ends off asparagus and discard. Cut remaining into 1/4 " slices
Wash potatoes and cut into even bite-sized pieces (about 1/2" pieces)
Roughly chop tomatoes
Drain and rinse beans
Cut lemon into 6 wedges
You'll be doing a dry saute here, so prepare your pot accordingly. Add the onion and celery. Continually stir and add a tablespoon of water at a time if vegetables begin to stick. Cook until onion begin to brown a little (about 4-5 minutes). Add peppers, garlic and asparagus. Continue to stir for another 2-3 minutes) Add in oregano, thyme, rosemary, salt (if using) and pepper. Stir well to coat. Add in the potatoes, broth and tomatoes. Bring to a boil and down to a simmer. Cook for 25-30 minutes - until the potatoes are soft enough to eat). Add in the beans. Scoop out flesh of squash and mix into stew. Remove from heat and serve. Squeeze lemon on top and sprinkle parlsey and basil.
Serves 6
How did this recipe work out?
Leave a Reply