Big Bold Pumpkin Chili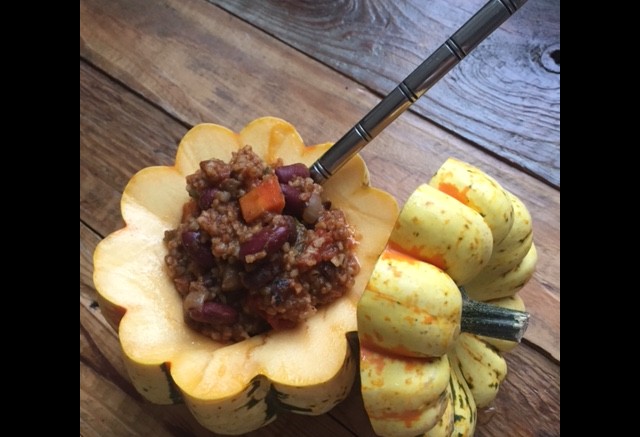 Hey there, pumpkin, it's chilly outside so let's get cooking!
This is a spin off of my famous Big Bold Chili, adding in pumpkin offers a little more depth and smoothness, but if you're not a punky fan, just omit it and you'll still be the star of the show with my original recipe.
Over the years I have played with and finally nailed the chili secret and now you have it, too! The heat from the jalapeno and cayenne meets the natural sweetness of the date paste and they collide with the perfectly balanced acidity of the San Marzanos. Add in the bulgur wheat for that authentic mouth feel of ground beef and just wait for the applause. Go ahead, take a bow, this is now all yours.
Ingredients
Setup
1 large sweet onion, diced
3 garlic cloves, minced
1 jalapeno, diced (de-seeded if it's too hot)
2 large carrots, large dice
2 cups of mushrooms, chopped
1 green bell pepper, large dice
2 tablespoons chili powder
1 teaspoon paprika
1 teaspoon ground cumin
1/2 teaspoon dried oregano
1/4 teaspoon cayenne
1 cup kidney beans, cooked
1 cup black beans, cooked
1 zucchini, large dice
1 roasted red bell pepper, chopped
1 28 oz can San Marzano tomatoes, whole & peeled, crushed by hand
2 tablespoons date paste
3 tablespoons tomato paste
1 14oz canned pumpkin
1 cup bulgur wheat
3 cups vegetable broth
fresh lemon juice
Directions
Add the onion to a pre-heated large stock pot or dutch oven. Stir until you begin to see carmaelization (browning) and add the garlic. Stir for another minute, careful to not burn as it will become bitter. If at any time the ingredients begin to stick, add just a tablespoon or two of broth or water.
Add in the jalapeno, carrots, mushrooms, green bell pepper and spices. Mix well and cook for another 4-5 minutes, until the mushrooms release their juices.
Add in the beans, squash, roasted red bell pepper, tomatoes, date paste, tomato paste and pumpkin. Stir. Finally, add the bulgur wheat and broth. Stir and cover for 20 minutes.
Right before serving, squeeze a little fresh lemon juice in to brighten it up.
NOTE: Earn presentation points by serving in a baked pumpkin bowl. Preheat your oven to 350 degrees. Slice your pumpkin (heirlooms work, too!) about 3/4ths of the way up. Core and seed it. Gently spray the inside of the pumpkin with olive oil (just enough so that it does not burn) and bake for 30 minutes. Transfer your cooked chili into the pumpkin bowl and bring oven temp down to 300 degrees. Bake for another 30-40 minutes and as you eat the chili you can scrape some pumpkin out as well.
___
Do you know about our virtual membership?  We call it the Center for Plant-based Living Community Support Club and we'd love to have you!
As a member you get:
Complete library of past virtual cooking classes + all recipes
Library of easy and quick recipes: 100 and growing
Access to private Facebook group
Monthly accountability check-in and support group Zoom call with Caryn
Quarterly "Ask the Doc" call with Dr. Jim Loomis, our Medical Director
20% off all virtual multi-week programming
A community of support
To learn more, please visit us here.
How did this recipe work out?
Leave a Reply