Air Fried Beer Battered Fish Fillets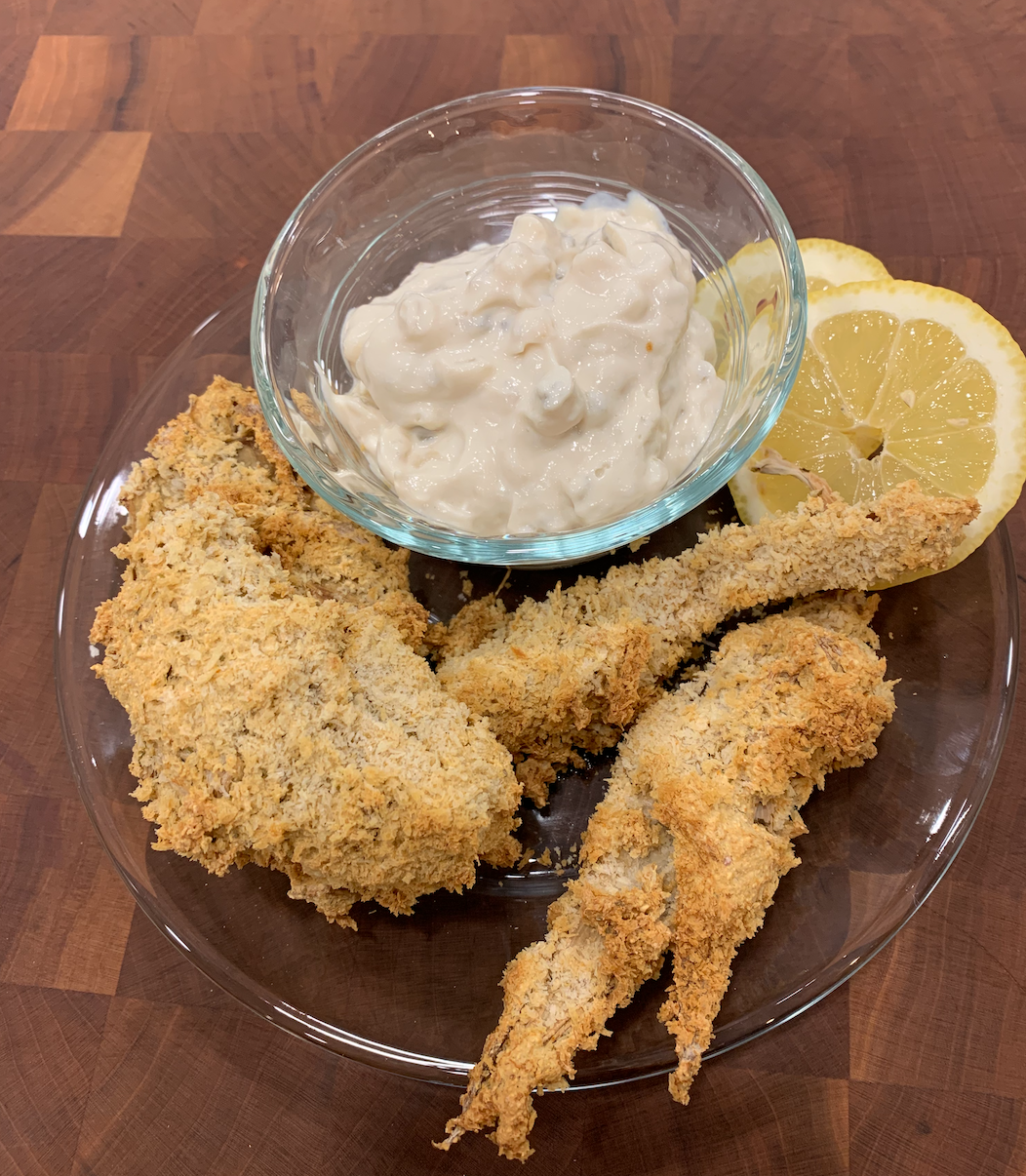 << NEWLY EDITED!>>
I first created this in February 2020 and have since made a few edits to the crunchy coating and the tartar sauce. I hope you love this as much as I do!
Banana blossoms - all the rage as the new plant-based "meat". After it's baked it shreds like a fish filet. Most of the time it's fried, but not here! I have air fried this sucker and gave it a side of the most awesome tartar sauce, ever!
Ingredients
Setup
1 18 oz can of banana blossoms (found in your local International grocer or in the link below)
MARINADE
2 cups water
1 sheet of nori
juice of 1/2 lemon
1 1/2 teaspoon dill
1 teaspoon white miso
BATTER
1 cup flour (whole wheat, oat or spelt)
1 12 oz IPA beer
BREADING
2 cups panko bread crumbs
1 tablespoon Old Bay Seasoning
1 tablespoon kelp powder
TARTAR SAUCE
1 recipe of Mayo
2-3 tablespoons dill relish
juice of 1/2 lemon
1 teaspoon dried dill
Directions
Open, drain and rinse the blossoms. Pat dry with a clean towel. Blend the marinade and transfer to a Ziploc bag. Add the blossoms, allow much of the air to escape and seal the bag. Place in fridge for 1 hour.
Make your mayo and then mix in the dill relish, lemon and dill. Place in fridge.
In one small mixing bowl add the flour and the beer, mix.  In another bowl, add the breading ingredients. Mix well.
Remove the blossoms from the bag and gently pat dry. If there is a little bit of nori on the blossoms, that's good, it will give it a little more fish flavor.
Grab some of the banana blossoms and in your hands, place them in almost a fish fillet shape. Dunk it into the batter, holding it together and then transfer to the breading. Place in air fryer. Do all of this near a sink so that you can rinse your hands off in between as it will be messy.
Repeat. Do not layer the "fish fillets" in the air fryer.
Air Fry at 370-degrees F for 15 minutes.
OR
Pre-heat oven to 450- convection setting. Add each "fish fillet" to a parchment paper lined pan and bake for 25 minutes.
 *** Here's a cool study on banana blossoms: Chemical profiling and functional properties of dietary fibre rich inner and outer bracts of culinary banana flower ***
_______
Our Membership:
PLANT-BASED STREAMING PLUS
Our membership is built like a streaming service - you get a full library of plant-based cooking classes to watch whenever you want. PLUS, you gain access to upcoming interactive virtual cooking classes and a monthly accountability group call.
As a member you get
Complete library of all past virtual classes - stream them whenever you'd like!

Free access to upcoming virtual classes

Library of easy and quick recipes: 100 and growing

Access to private Facebook group

Monthly accountability check-in and support group Zoom call with Caryn

Quarterly "Ask the Doc" call with Dr. Jim Loomis, our Medical Director

20% off all virtual multi-week programming

A community of support
Video
How did this recipe work out?
Posted by
Laurie
on
Mar 11th, 2022
Have you tried this recipe using fresh banana blossoms? I noticed them in my international market yesterday and wondered what the heck you make from banana blossoms.
Posted by
caryn
on
Mar 11th, 2022
I have not, but I'd love to know how yours turned out!
Leave a Reply