Zucchini Fritters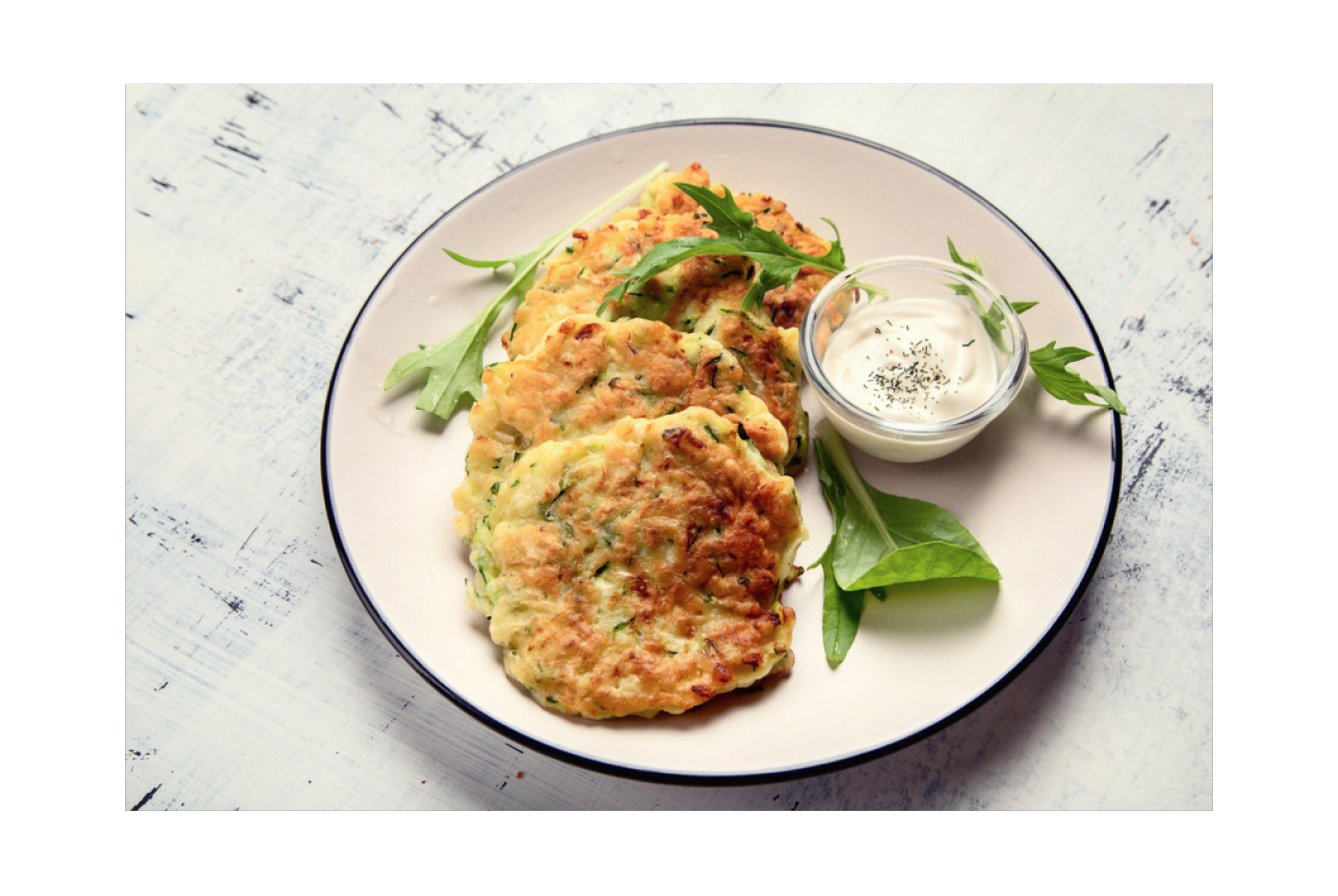 These cute little gluten-free fritters take care of that over abundance of summer squash in your garden and add a low calorie addition to any meal! They also make great appetizers for the upcoming holiday season!
Ingredients
Setup
2 cups of shredded zucchini (about 2 large zucchini)
1 1/2 tablespoons ground flax + 1/4 cup water
1 white onion, diced small
3 garlic cloves, pressed with your knife and minced
1 1/2 cups (one 14-ounce can) chickpeas, drained and rinsed
1 cup chickpea flour
1/3 cup fresh dill, minced
Directions
Preheat your oven to 375
Shred your zucchini and then transfer in batches to a clean kitchen towel and squeeze water out.
Combine the flax and water and stir. Allow to sit for 5 minutes or so. This is our flax "egg" and a really great binder.
To a hot pan, add the onion and begin your dry saute. Bring the heat down to medium-high and continually stir. Add a few drops of water to deglaze if the onions begin to stick.
Add in the garlic and cook for another 45-60 seconds, until fragrant.
Now, add the zucchini and cook for 5-7 minutes, trying to cook as much water out as you can. If the fritter mixture is too wet, it will not hold together.
Add the chickpeas to a large mixing bowl and press them with a potato masher or the back of a fork. No need to puree, make sure you have some texture.
Transfer the zucchini and onion mixture to the chickpea bowl, add the flax egg, chickpea flour and salt / pepper to taste. Mix well with your hands. Finally fold in the fresh dill.
Place mixture in the fridge to chill for at least one hour to overnight.
Line a baking sheet with parchment paper and pick off an amount that feels somewhere in between a golf ball and a softball size. Roll in your hands, and gently press to flatten a little.
Bake for 15 minutes. Flip and bake an additional 10 minutes.
To freeze: Batch cook and allow to cool. Store in freezer safe container for 3 months.
Makes 20-22
Serve with Tzatziki and enjoy!
_______________________________
Do you know about our STREAMING PLUS membership? 
Our membership is built like a streaming service - you get a full library of plant-based cooking classes to watch whenever you want. PLUS, you gain access to upcoming interactive virtual cooking classes and a monthly accountability group call.
As a member you get:
Complete library of all past virtual classes - stream them whenever you'd like!
Free access to upcoming virtual classes
Library of easy and quick recipes: 100 and growing
Access to private Facebook group
Monthly accountability check-in and support group Zoom call with Caryn
Quarterly "Ask the Doc" call with Dr. Jim Loomis, our Medical Director
A community of support
To learn more, please visit us here.
Video
How did this recipe work out?
Posted by
David
on
Sep 21st, 2021
I had these today. Very tasty! Enjoyed them with the tzatziki. Yummy! I don't have the best oven so it took about an hour. I would cook each side for 15min twice. They didn't dry out. For the tzatziki I used non dairy coconut milk yogurt.
Posted by
caryn
on
Sep 21st, 2021
Thanks for the feedback, David! So happy you liked both the fritters and the tzatziki!
Leave a Reply