Strawberry Coconut Walnut Schmoofins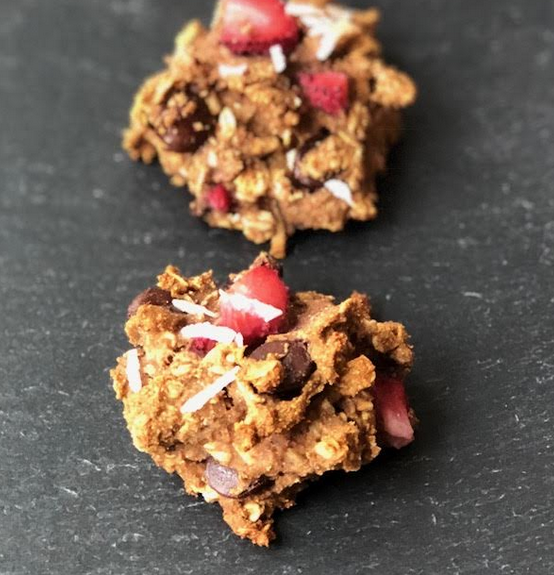 Kind of like a scone, sort of like a muffin, maybe like a cookie? Schmoofin.

These little guys are great with your morning java or that 3:00 slump. Sweetened only with dates, these won't send any blood sugars to the moon, but your taste buds will be partying. The brightness of strawberries, earthiness of coconut and wonderful crunch of walnuts will make this breakfast your new go-to. Make once, and enjoy all week!
Ingredients
Setup
1 1/2 cups whole wheat flour (use gluten-free if needed)
3/4 cup gluten-free whole rolled oats
1/4 cup ground flax seeds
1 teaspoon baking powder
1/2 teaspoon baking soda
1/2 teaspoon salt
1 1/2 cup unsweetened plant milk
8 medjool dates, pits removed
1 tablespoon vanilla extract
12-14 fresh strawberries, roughly chopped
1/2 cup unsweetened + a tablespoon or so for garnish, dried coconut shreds
1/4 cup raw walnuts, chopped roughly
1/4 cup dairy-free chocolate chips (optional)
Directions
Preheat oven to 350-degrees F.
Line a baking pan with parchment paper.
In a large mixing bowl add the dry ingredients (flour, oats, flax, baking soda/powder and salt) and mix well.
In a blender add the plant milk and the dates. Blend until thoroughly mixed and there are no date chunks left. Add in the vanilla and pulse a few more times.
Pour mixture into bowl with dry mix and mix well. Fold in the strawberries, coconut shreds, walnuts and chocolate chips (if using). Scoop up about an ice-cream sized scoop and place on your baking pan, sprinkle with a few shreds of coconut. Bake for 20 minutes. Allow to cool and enjoy!
Makes about 20 Schmoofins.
How did this recipe work out?
Leave a Reply