Shamrock Salad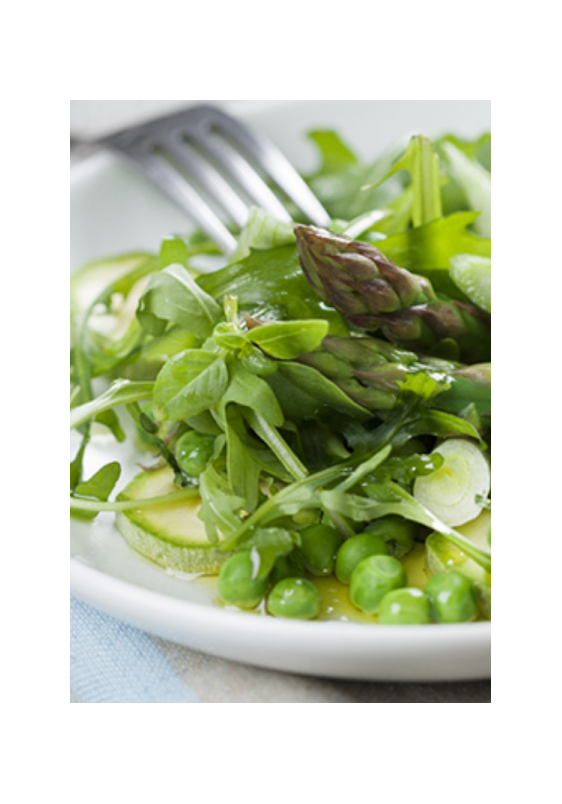 You will be lucky in good health with all these greens! Add this to your meal rotation and the odds of of making your body happy are in your favor, and luck has nothing to do with it!
Ingredients
Setup

Shamrock Salad
2 cup blanched broccoli florets

1/2 cup blanched snow peas
4 stalks of asparagus, cut to 1" pieces and blanched

1 green
b
ell
 

pepper, cut into matchsticks
1/2 cup frozen green peas
Scattering of  fresh herbs like, mint, basil, oregano, etc

1 tablespoon white balsamic vinegar
3 teaspoons liquid sweetener (I like date paste)

2 teaspoons coconut aminos

Directions
 In a large bowl, add the broccoli through the edamame.  In a small bowl, whisk the dressing ingredients. Pour over salad and scatter with fresh herbs.
_____________________________________________
Do you know about our STREAMING PLUS membership? 
Our membership is built like a streaming service - you get a full library of plant-based cooking classes to watch whenever you want. PLUS, you gain access to upcoming interactive virtual cooking classes and a monthly accountability group call.
As a member you get:
Complete library of all past virtual classes - stream them whenever you'd like!
Free access to upcoming virtual classes
Library of easy and quick recipes: 100 and growing
Access to private Facebook group
Monthly accountability check-in and support group Zoom call with Caryn
Quarterly "Ask the Doc" call with Dr. Jim Loomis, our Medical Director
20% off all virtual multi-week programming
A community of support
To learn more, please visit us here.
How did this recipe work out?
Leave a Reply