Papaya Jalapeno Salsa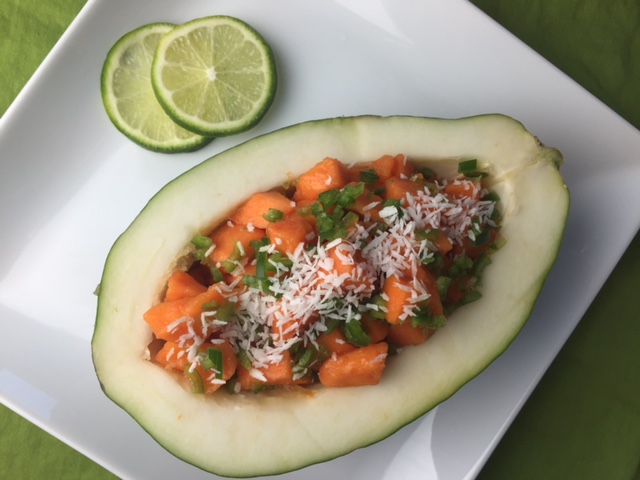 In honor of National Papaya Month I offer you the most simple, yet delicious papaya salsa you'll ever make.  I've discovered that when papaya shares the plate with other flavors, this underrated fruit takes a back seat.  Do you really know what papaya tastes like?  Do you know that it's sweetness is muted a bit by velvety and buttery notes that are unique to this tropical fruit? At the risk of sounding dramatic, it really is quite beautiful to the senses. A hint of smokiness from a diced jalapeno, a spray of lime juice and a sprinkling of unsweetened coconut rounds out the earthiness and all you'll say, is MINE!
Ingredients
Setup
1/2 ripe papaya
juice from 1/2 lime
1 jalapeno, seeded and diced small
1/2 TBS dried unsweetened coconut shreds
Directions
Using a chef's knife, cut the papaya in half lengthwise, scoop out the seeds and discard them. Using a melon baller, scoop out the flesh of one of the sides of the papaya, place in airtight container and refrigerate to enjoy later. Take the other half and cut off the bottom to create a flat surface so that you can stand it upright.  Using a small knife (like a paring knife) gently cut off the skin from the fruit.  Lay the fruit down and cut into large diced chunks (about 1/4") cubes.  Transfer the papaya into a mixing bowl.  Add in the juice from the lime and the jalapeno.  Toss gently and scoop into the side of the melon you originally scooped out of. Sprinkle coconut on top and enjoy.
NOTE:
You can leave the seeds in the jalapeno, however, the heat may overpower the layers of flayer the papaya offers.  The smokiness from the jalapenos is just the right amount of heat. 
As pictured, I used an unripe papaya and only scooped out the seeds to create a more sturdy bowl for the salsa.
Video
How did this recipe work out?
Leave a Reply