Lentil Lettuce Cups with Peanut Sauce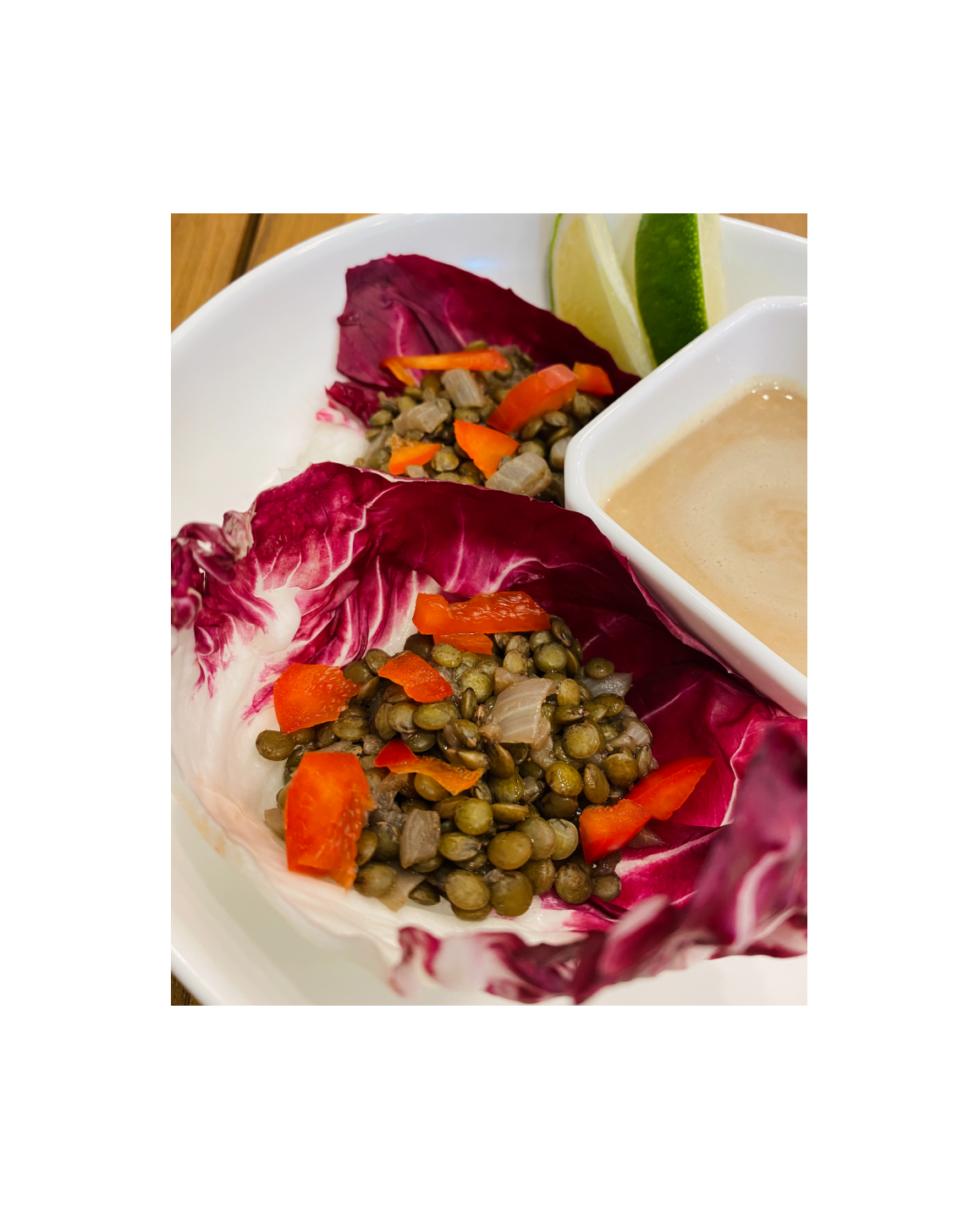 This light, yet filling, any-night-of-the-week dinner is fresh and easily modifiable to your palate. I used a dry-saute method in this recipe and the video further explains how this is done.
Ingredients
Setup
1/2 white onion, diced small
1/2 cup French Lentils
1 1/4 cups water
1 tablespoon ground cumin
Lettuce of your choosing, I find radicchio is nice for its sturdy leaves
1/2 red bell pepper, diced
1 lime, sliced
one recipe of the Everyday Peanut Sauce
Directions
Heat up a large sauce pan over high heat for about 3-4 minutes.
Add the diced onion, pull the heat down to medium-high and continually stir. This is a dry saute. Keep a ramekin of water nearby and add a teaspoon of it to the sauce pan if your onion begins to stick.
++ Please watch the video below on how to dry saute. ++
When the onion has become golden brown, add the lentils, 1 1/4 cup water and a pinch of salt. Bring the water to a boil and then immediately down to a simmer and cover for 25 minutes.
Test to make sure the lentils are soft enough to eat. There's nothing more damaging to a tummy than under-cooked beans!
Allow to cool slightly and scoop into lettuce cups.
Garnish with bell pepper, squeeze on a little lime juice and drizzle with the peanut sauce. Enjoy!
Makes 6 lettuce cups.
For more information on why + how to dry saute.
________
Some things happening at the Center for Plant-based Living:
1. Check out our latest classes: https://www.cpbl-stl.com/classes
2. To purchase some of the kitchen tools I use https://tinyurl.com/yyacj2cg
3. To subscribe to the weekly Plant-based Quick Cooking Show: https://www.youtube.com/channel/UCExWwoBh6fvdOgghkjh0U1A?
It's here!!! Join our new virtual membership!
Thank you for your continued support!
Video
How did this recipe work out?
Leave a Reply