Farro Granola Bites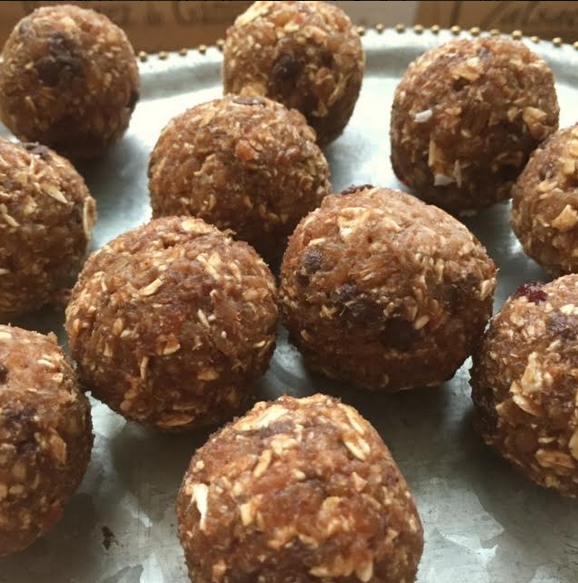 Recently, I was invited to created a recipe for Kitchen Club Kids and they requested a farro recipe aimed toward kiddos 3-5 years old. I'm a big fan of having healthy snacks around the house and what kid (big or small!) doesn't like a sweet snack that you can eat with your hands? So, the no-bake farro granola bites were born. Farro, a highly nutritious ancient grain, along with whole rolled oats, pack a fiber punch. The sweetness comes solely from whole dates, so no added sugar in these snacks as well. As for including your little one in on the fun of making these, the notes are in the recipe. Have fun!
Ingredients
Setup
1 cup farro
3 cups water
14 dates, pits removed
1/4 cup crunchy peanut butter
1 teaspoon ground flax
2 teaspoons ground cinnamon (or to taste)
1 1/2 cups whole rolled oats
couple pinches of sea salt
1/4 cup of mini dairy-free dark chocolate chips (optional)
1/8 cup of dried cherries, chopped (optional)
Directions
Over high heat, add the farro and water to a sauce pan. Bring to a boil and down to a simmer. Cover and allow to cook for 25 minutes. Take cover off and continue to cook for another 5-7 minutes. Drain any excess water and transfer to a baking sheet, large plate or very wide bowl for cooling
To a food processor, add the dates and begin to pulse several times to break them up. Turn on high and drizzle a few tablespoons of water in. You are looking for the dates to become a paste. Add in the farro, peanut butter, flax and cinnamon. Continue to process. Add in one-half of the oats and process. Add in the rest of the oats and salt and pulse a few times to just incorporate them into the mixture. (Note, you're never really looking for a creamy, smooth texture - it's best to keep the mixture with some texture so it better holds together. )
Transfer the mixture to a large mixing bowl and using your hands, fold in the chocolate chips and cherries.
Pick off about and inch or so of the dough and give it a good squeeze. Next, roll the dough in your hands gently to create a ball. The size is really up to you. Place bites on a parchment paper lined baking sheet and place in refrigerator over night. Will keep for 14 days in a sealed container in the refrigerator.
Makes about 18 bites (depending upon the size).
Notes:
If there is a peanut allergy, sunflower seed butter can be substituted.
If you cannot find mini chips, simply chopping regular sized chips is fine, but chop them pretty small as the bites will be difficult to keep together if there are large chunks inside.
Your little sou chefs can help by picking the pits out of the dates, measuring the ingredients and helping in the rolling.
How did this recipe work out?
Leave a Reply