Curry Thai Tofu over Coconut Pineapple Brown Rice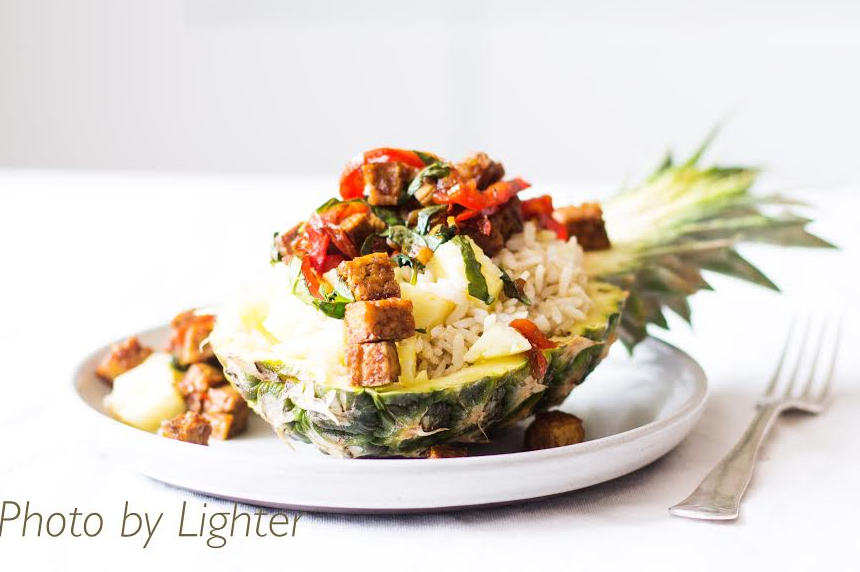 This is an authentic tasting old-school Thai dish that is easily adaptable to any kitchen. Spice it up even more by adding more curry, or mellow it down by adding a softer creamy taste with more coconut milk. You're the boss. 
Ingredients
Setup
1 cup brown rice
2 cup vegetable broth or water
1 cup light coconut milk (from the can)
3/4 cup fresh pineapple, cut into small bite size pieces
1 block extra firm tofu, drained, pressed & cubed (or one package of tempeh, cubed)
1 red bell pepper, sliced thinly
1 shallot, minced
3 garlic cloves, minced
1 tablespoon fresh ginger root, minced
1 tablespoon curry paste (more or less to taste)
1/2 cup water
2 tablespoon liquid aminos (soy, coconut or tamari), divided
1 tablespoon liquid sweetener of choice
handful of Thai basil leaves, slivered
Directions
Bring the brown rice and broth (or water) to a boil and down to a simmer. Cover and cook for about 30 minutes. When the water has mostly cooked in, add in the coconut milk. Stir well and continue to cook for another 20 minutes with the lid off. Take off heat and gently toss with fresh pineapple.  

Lightly spray a non-stick skillet with non-stick spray and add in the tofu. Flip with a thin spatula until most sides are browned. Take off heat and drizzle in 1 tablespoon of aminos. Toss to coat and transfer to a plate.  

Bring heat up to medium and add the pepper, shallot, garlic and ginger root. Cook for 5-7  minutes (until soft) add tablespoon of water to deglaze if necessary.

In a small bowl, whisk the curry, water, remaining aminos and sweetener. Add the tofu back to the hot pan with the vegetables and coat with curry mixture. Allow all flavors to combine for about 2-3 minutes. Take off heat and toss in basil. Serve over coconut pineapple rice.
NOTE:
Tempeh (pictured) is an easy swap out if you don't want to use tofu. Be sure to steam the tempeh for 10 minutes after you cut it so that it can soak up the flavors.
How did this recipe work out?
Leave a Reply