Creamy Caramelized Onion Dip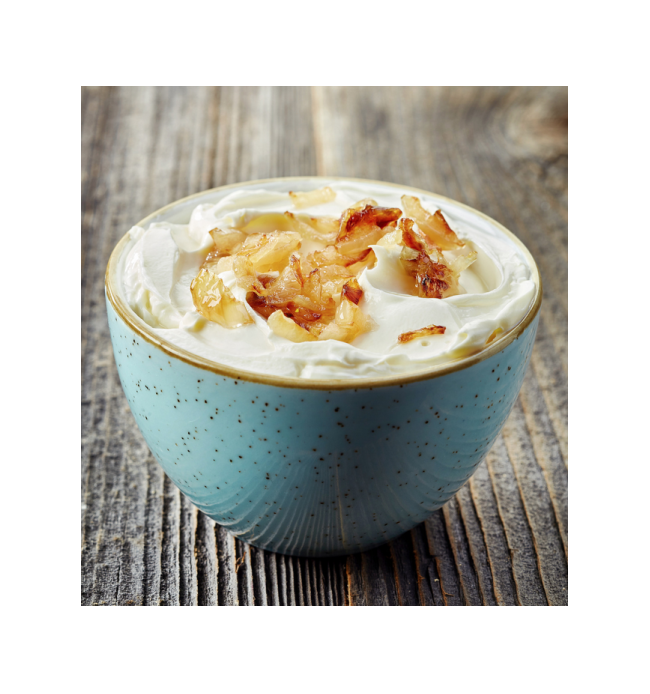 Chef AJ is a big supporter of California Balsamic and recently I was on her show where I promised her I'd try the famous balsamic that I keep hearing about it and use it in a recipe.  Yeah, that stuff is amazing!

So, taking two of my favorite things - caramelized onions and dip (I mean, seriously, who doesn't?!) and with the help of a little California Balsamic, I'm blending the two for a dip you can dive in to or use as a great spread!


Ingredients
Setup
3 sweet yellow onions, sliced to about 1/8" or smaller
1/2 cup vegetable broth (or water)
1 12 ounce package of extra firm silken tofu
1 1/2 teaspoons California Balsamic (or other balsamic)
pinch of salt
ground black pepper
Directions
To a hot oversized skillet or Dutch oven, add your onions. Immediately bring the heat down to medium and continually stir. When the onions begin to release some of their moisture, add a heavy pinch of salt and continue to stir. If the onions begin to stick a little, that's a good thing. Pour in a tablespoon of vegetable broth (or water) and use a spatula to de-glaze the pan, furthermore adding more flavor.
This is a dry saute, you are not steaming the onions by adding in broth/water and allowing them to cook. A dry saute offers a big, robust flavor by condensing the flavors and allowing them to cook on their own. Only add a little liquid when they begin to stick and very barely crisp up. This repeating of the de-glazing imparts a ton of flavor.
Don't be in a rush for this, it should take about 25 minutes.
Transfer most of the onions (leaving some for a garnish) and balsamic to a blender along with the tofu and a couple of turns of the freshly ground pepper. Blend until smooth, or perhaps, leave a little chunky. Up to you.
Spoon into a bowl and garnish with remaining onions and perhaps a few drizzles of balsamic.
Enjoy!!
______
Check out our latest classes: https://www.cpbl-stl.com/classes
To purchase some of the kitchen tools I use here https://tinyurl.com/yyacj2cg
To subscribe to the weekly Plant-based Quick Cooking Show: https://www.youtube.com/channel/UCExWwoBh6fvdOgghkjh0U1A?
Thanks for all of your support!
Video
How did this recipe work out?
Leave a Reply