Chunky Blue Cheese Dip (or dressing!)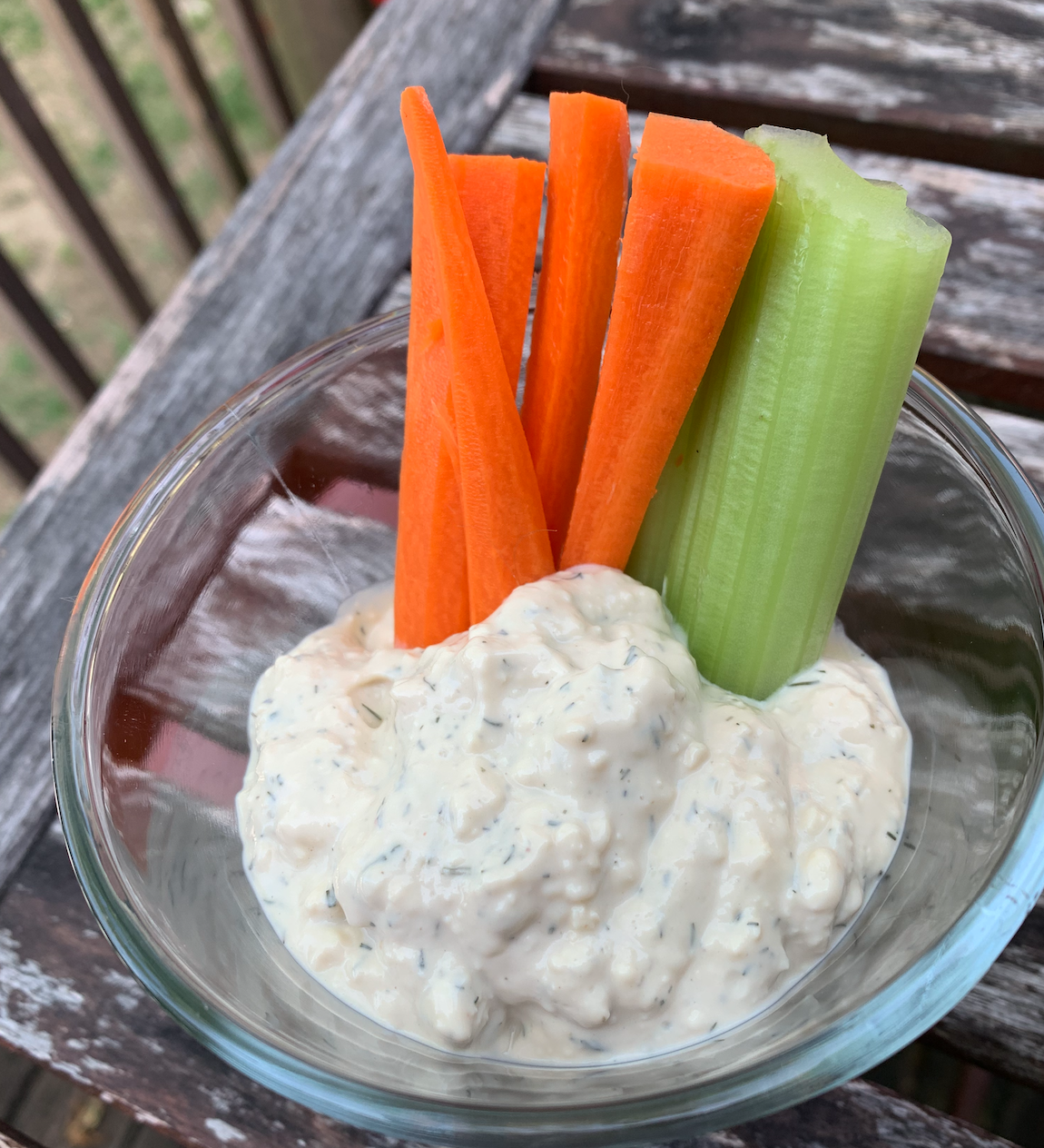 Dive in, baby! Your plant-based blue cheese is HERE! Make it a dip, make it a dressing - it's sooo good!
Ingredients
Setup
Dressing
1/2 cup raw cashews
3 cups water
12 oz silken firm tofu
3 tablespoons nutritional yeast
1 1/2 tablespoons apple cider vinegar
1 tablespoon yellow miso
1/2 tablespoon maple syrup (or other liquid sweetener)
1 teaspoon onion powder
1/2 teaspoon garlic powder
1/4 teaspoon mustard powder
unsweetened, plain dairy-free milk to desired thickness of dressing
Crumbles
1 12 oz package of ultra firm tofu (not silken), water squeezed out and crumbled by hand
2 tablespoons nutritional yeast
1 tablespoon dried dill (or to taste)
heavy pinch of salt
Directions
Combine the cashews and the 3 cups of water and allow to soak for an hour. Or Boil for 10 minutes. Drain off the water.
To a blender, add all the dressing ingredients (including the cashews) and drizzle in as much of the plant-based milk as desired. Add more plant-based milk for a dressing, less for a dip. It will firm up as it chills. Transfer to a bowl.
In a separate bowl, mix together the Crumbles and add as much as you'd like to the dressing. Leftover crumbles can be added to salads, pizza toppings, over potatoes, etc. 
Makes a 1 1/2 cups
To purchase the kitchen tools I use here and in the Plant-based Quick Cooking Show, please visit my Amazon page here.
How did this recipe work out?
Leave a Reply