Chunky and Creamy Tomato Soup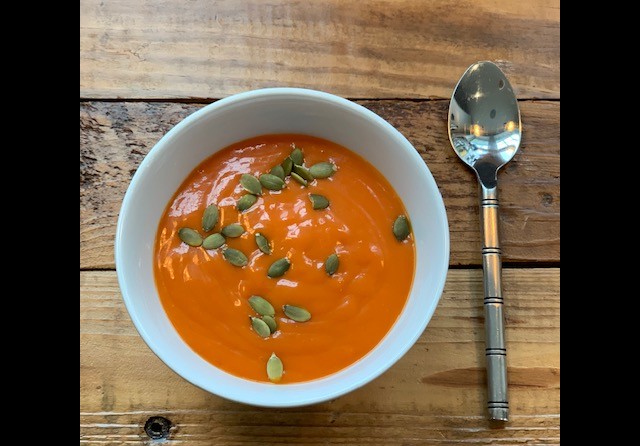 This thick, chunky and oh, so creamy tomato soup has a lot of little secrets, but one of them is the use of San Marzano tomatoes. Italy's little gem is a must for that great flavor here.
Ingredients
Setup
1 large yellow onion, diced
1 1/2 cups celery, diced
2 teaspoons smoky paprika
1 teaspoon thyme
1 teaspoon dried basil
1/2 teaspoon ground pepper
1/2 teaspoon sea salt
3 cups vegetable broth
2 20 ounce cans whole San Marzano tomatoes
1 - 15 ounce can cannellini beans, drained and rinsed
1 cup sun-dried tomatoes (not packed in oil), diced
1/2 cup cashews
1 cup water
pumpkin seeds
Directions
To a pre-heated soup pot, add in the onion and celery. Bring the heat down to medium-high and continually stir. If there is some sticking, add a little water to de-glaze. When the onion begins to caramelize, add in the spices. Continue to stir.
Add in the broth, next the tomatoes. Add in the tomatoes one by one and squeeze them in your hand as you drop them into the pot. Add one-half cup of the beans and the sun-dried tomatoes. Stir and allow to simmer for about 20 minutes.
To a blender add, the remaining cup of beans, the cashews and water. Begin by drizzling the water in as you want a really thick cream-like consistency. Pour this into the tomato soup and either transfer one-half of the soup in batches to a blender or use an immersion blender to make a nice creamy soup that still has some chunkiness.
Garnish with raw hulled pumpkin seeds.
Salt to taste.
Soup stays in refrigerator 2-3 days, frozen for one month.
How did this recipe work out?
Leave a Reply