Chickpeas and Clusters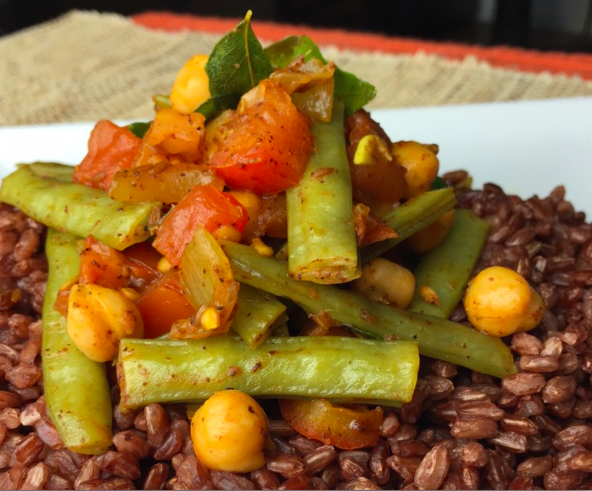 Chickpeas and clus----what?!
If you're unfamiliar with the legume, the cluster bean, you might be more familiar with it in it's processed state of guar gum as it acts as a stabilizer in condiments such as ketchup, BBQ sauces and salad dressings. You'll also see it on your ingredient labels for baked goods as it improves texture and shelf life.
This guar, in its whole state of the cluster bean (some do call it a guar bean), looks like common green bean and is just as versatile. So, in alliance with ease of use, they are also nutrient dense, this should help you get that extra plant on every plant.
Ingredients
Setup
3/4 C dried chickpeas, soaked in water overnight and cooked*
2 C cluster (guar) beans, washed, snipped on the ends and cut into 1 " pieces.
1 tsp olive oil
1 tsp cumin seeds
1 yellow onion, diced
1 jalapeno pepper, minced (seeded for less heat)
2 garlic cloves, minced
1 " ginger root, minced
3 tomatoes, chopped
1  1/2 tsp chili powder
1/2 tsp turmeric powder
1/2 C curry leaves
1 tsp garam masala
sea salt to taste (optional)
Directions
In a large sauce pan, bring 3 cups of water to a boil and add in the cluster beans. Cover and allow to soften  for 8-10 minutes. Drain and shock with an ice bath to halt the cooking process.
In a large skillet over medium-high heat, add the oil and the cumin seeds. Once they start to pop a little, add in the jalapeno pepper and onion. Saute for about 3-4 minutes, until the onion is translucent.  Next add in the garlic and ginger and continue to cook for another minute (but, no more, you don't want the garlic to burn and become bitter tasting).
Add in the tomatoes, cluster beans, chili powder and the turmeric, stir well. When the tomatoes begin to break down a little, add in the garbanzos, curry leaves and garam masala.  Cook for another 3-4 minutes until the entire dish is heated throughout. Salt to taste (if using) and serve over rice or with naan bread.
*Alternatively, you can use canned beans, just make sure to drain and rinse them before using.
Video
How did this recipe work out?
Leave a Reply