Caryn's Big Bold Chili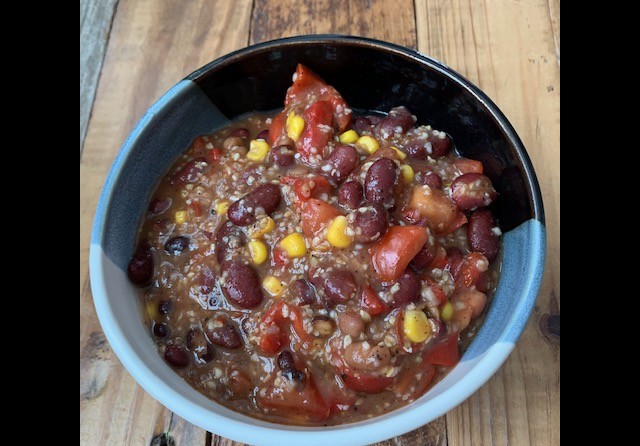 You've never had chili like this! It's packed with beans and vegetables.  And, you'll never miss the meat because I have added bulgur wheat to give you that mouth-feel and the sweetness of the San Marzano tomatoes will add a richness you'll really love. I think it is really the ultimate comfort meal
Ingredients
Setup
1 large sweet onion, diced
3 garlic cloves, minced
1 jalapeno, diced
2 large carrots, large dice
16 oz fresh mushrooms (your choice), roughly chopped
1 green bell pepper, large dice
2 tablespoons chili powder
2 teaspoons smoked paprika
2 teaspoons ground cumin
1 teaspoon dried oregano
1/4-1/2 teaspoon cayenne
1 14 oz can kidney beans, drained and rinsed
1 14 oz can black beans, drained and rinsed
1 zucchini, large dice
1 roasted red bell pepper, chopped
4 ounces corn
1 28 oz can San Marzano whole, peeled tomatoes, crushed by hand
2 tablespoons date paste (maple syrup also works)
3 tablespoons tomato paste
1 cup bulgur wheat
3 cups vegetable broth
fresh lemon juice
Directions
Add the onion to a pre-heated large stock pot or dutch oven. Stir until you begin to see caramelization (browning) and add the garlic. Stir for another minute, careful to not burn as it will become bitter. If at any time the ingredients begin to stick, add just a tablespoon or two of broth or water.

Add in the jalapeno, carrots, mushrooms, green bell pepper and spices. Mix well and cook for another 4-5 minutes, until the mushrooms release their juices.

Add in the beans, squash, roasted red bell pepper, corn, tomatoes, date paste and tomato paste. Stir. Finally, add the bulgur wheat and broth. Stir and cover for 20 minutes.

Right before serving, squeeze a little fresh lemon juice in to brighten it up.
*To make date paste, simply add 5-6 pitted dates to a blender and as  it is running, drizzle in warm water, only until things really get whirling. To make a large batch, increase the amount of dates and water. Will keep in the freezer for 6 months, and about 8 weeks in the fridge in a well sealed container.
___
Do you know about our virtual membership?  We call it the Center for Plant-based Living Community Support Club and we'd love to have you!
As a member you get:
Complete library of past virtual cooking classes + all recipes
Library of easy and quick recipes: 100 and growing
Access to private Facebook group
Monthly accountability check-in and support group Zoom call with Caryn
Quarterly "Ask the Doc" call with Dr. Jim Loomis, our Medical Director
20% off all virtual multi-week programming
A community of support
To learn more, please visit us here.
How did this recipe work out?
Posted by
Marge Walker
on
Jun 2nd, 2019
Going to the store now. Will cook today. It's my day off! I'll let you know how it comes out.
Posted by
Mark
on
Oct 7th, 2019
Hi, I enjoyed the class this weekend!
I'm not a big mushroom fan but love chili. Would you recommend just leaving out the mushrooms or is there something I can substitute?
Posted by
caryn
on
Oct 7th, 2019
HI Mark! Thanks for joining us!! Because the mushrooms are so very good for your immune system, I'd encourage you to keep them and chop them VERY small, however, if you really cannot stand the thought of them (I have a husband like this ;) ), leave them out and add in a few more beans.
Leave a Reply