Carrot Pecan Cupcakes with Mango and Goji Berry Frosting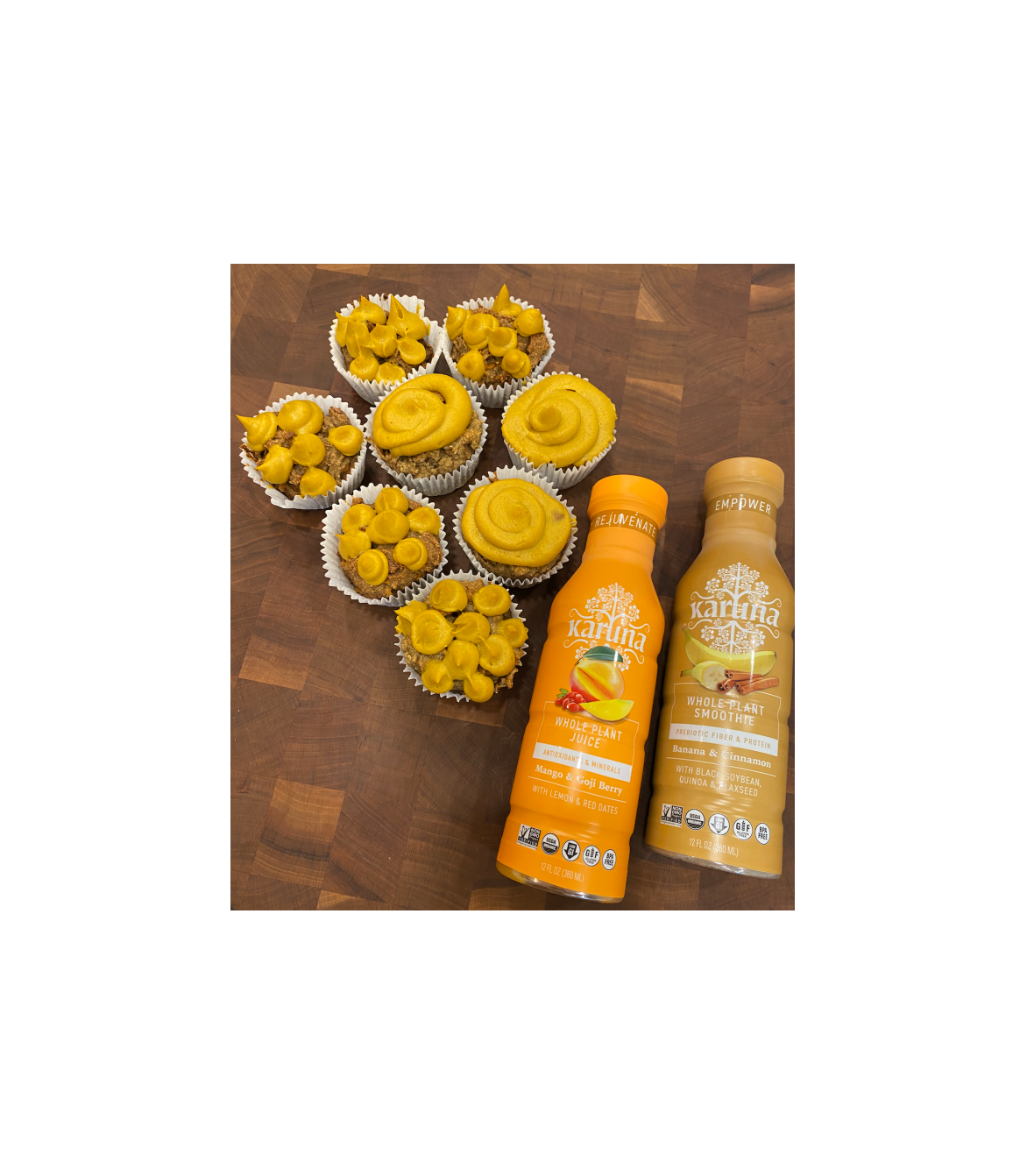 Using two different flavors of Karuna Beverages along with other whole plant ingredients, you can bet these are the tastiest and most nutrient dense cupcakes you'll ever bite into.
Since when did cupcakes actually become good for you? Since now.
Ingredients
Setup
CUPCAKES
2 cups oat flour*
1 teaspoon baking powder
1 teaspoon baking soda
1 heavy pinch of sea salt
1 cup date paste (dates and water, blended to make a thick paste)
3/4 cup Karuna Beverage Whole Plant Smoothie -  Banana and Cinnamon Empower
1/2 cup unsweetened applesauce
1 overripe banana
1 cup shredded carrots
1/2 cup pecans, roughly chopped
FROSTING
1 medium sweet potato, cooked and skin removed
1/2 cup raw cashews (soaked for 1 hour, drain off soaking water before using)
6 dates, pits removed
1 12 oz bottle of Karuna Whole Plant Juice Mango and Gogi Berry Rejuvenate + 1/4 cup of one more bottle
Directions
Preheat your oven to 350 degrees, F.
Line a cupcake pan with liners and set aside.
To a small saucepan over medium high heat, pour in one of the bottles of Rejuvenate. Allow that to reduce down to 1/4 cup. It should take about 20 minutes.
To a large mixing bowl, add the oat flour, baking soda + powder and salt. Whisk.
To a blender, add the date paste, Karuna's Empower, applesauce and banana. Blend until smooth - should only take about 5 seconds.
Pour this into the dry ingredients and gently mix with a large spoon/spatula. Add in the pecans and carrot shreds. Continue to fold all ingredients together. It will thicken a little as it sits.
Scoop the mixture nearly to the top into the cup liners and bake for 27 minutes.
Meanwhile, make your frosting.
To a blender, add the sweet potato, cashews, 6 dates, the 1/4 cup of reduced Mango and Goji Berry Juice and the 1/4 cup of juice from the other bottle. Blend until very smooth and creamy. There is not much liquid and you might bee starting and stopping a several times until everything catches in the blades, but you don't want it too thin or the frosting won't set up.
After frosting the cupcakes, keep them in the fridge until ready to eat.
_________
*I always keep these in stock and when I need flour, I simply grind them in my blender and then sift through a mesh strainer.
Some things happening at the Center for Plant-based Living:
1. Check out our latest classes: https://www.cpbl-stl.com/classes
2. To purchase some of the kitchen tools I use https://tinyurl.com/yyacj2cg (affiliate link)
3. To subscribe to the weekly Plant-based Quick Cooking Show: https://www.youtube.com/channel/UCExWwoBh6fvdOgghkjh0U1A?
COMING SOON – Virtual Membership.
Thank you for your continued support!
How did this recipe work out?
Leave a Reply