Blackeye Pea, Mushroom and Cauliflower New Year Bowl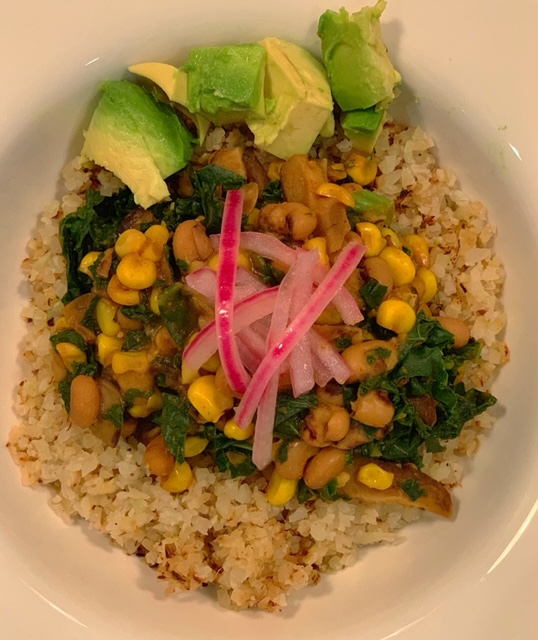 Creamy avocado, big filling bites of smoky vegetables, topped with a slight bite of delicious quick pickled red onions. That's enough to confuse and delight your taste buds in this new year! No heaviness to weight you down, just nutrient dense, real food to fill you up, and and keep that metabolism and immune system running on all cylinders.
Ingredients
Setup
16 oz riced cauliflower (fresh or frozen)
Fresh ground black pepper
10 oz shiitake mushrooms (fresh or frozen), roughly chopped
3-4 garlic cloves, minced and allowed to sit out for 20 minutes
1 1/2 cups cooked black-eye peas
1/2 cup organic frozen corn
1 bunch of kale, washed and cut into thin ribbons and again chopped in half
1 tablespoon onion powder
2 teaspoons smoked paprika
1/2 teaspoon turmeric
pinch of crushed red pepper
1/2 tablespoon liquid smoke (optional)
1 avocado, peeled, seed removed and flesh cut into 1/4" cubes
Quick Pickled Red Onions for garnish
Directions
To a large, pre-heated skillet, add the cauliflower. Bring the heat down to medium and continually stir. If there is a little sticking, add a tablespoon or two of water or vegetable broth. When it barely begins to brown and get slightly crispy, add a little fresh ground pepper, stir again and take off heat. Transfer to a bowl and set aside.
Wipe out and re-heat skillet. Add in the mushrooms and bring heat back down to medium. The mushrooms will quickly give up their juices, use the moisture in the pan to help cook. Add in the garlic and continue to cook for another 60 seconds, continuously stirring. Add the beans and corn. Once heated, add the kale and the onion powder, paprika, turmeric and red pepper. Stir well to incorporate flavors. Add liquid smoke, if using. Cover the pan to steam and help cook down the kale for a few minutes. Stir and take off heat.
Divide the cauliflower into 4 separate bowls, and spoon bean and mushroom mixture on top. Add several avocado cubes and garnish with Quick Pickled Red Onions.
How did this recipe work out?
Leave a Reply