Andy's Cookies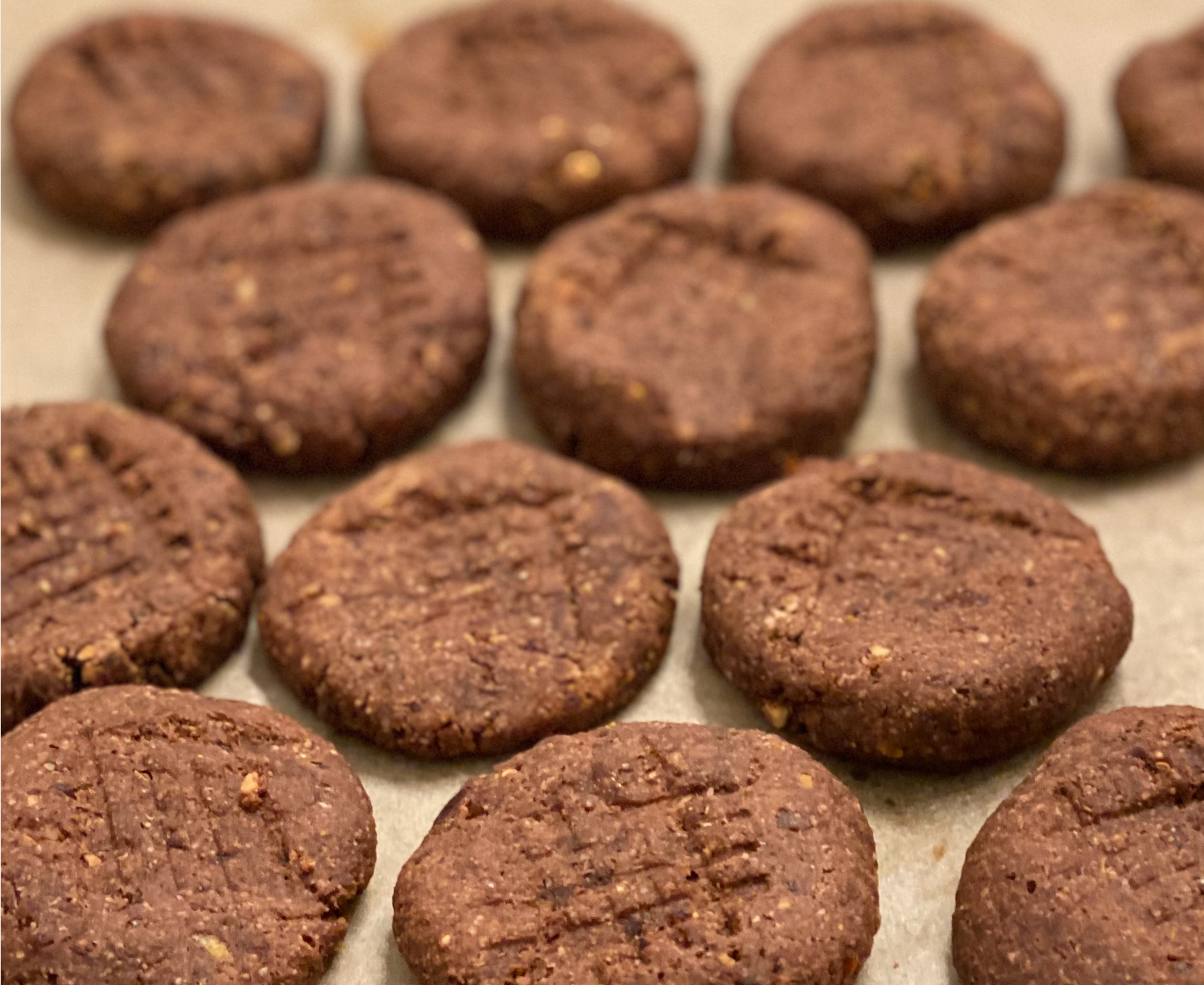 A friend was in need of a cookie that included no artificial sweeteners, little higher in natural fats and he also requested a higher protein ratio. He also loves chocolate. I'm especially proud of this one.
Ingredients
Setup
1/4 cup quinoa
1 1/2 tablespoons flax meal
3 tablespoons water
10 pitted dates, softened at room temperature for 8 hours
1 1/2 cup gluten free oat flour
1/2 cup natural crunchy peanut butter
2 heaping tablespoons cacao powder
1 over ripe banana
heavy pinch of salt
Directions
Preheat oven to 350.
Combine the flax and water in a small bowl and allow to sit for 5-10 minutes - until it sets up to a gel-like consistency.
Meanwhile, add the quinoa to a saucepan and bring the heat to medium-high. Continually stir until it begins to brown a little. Add 1/2 cup up water and bring the heat to high and down to a simmer. Cover and cook for 12 minutes. Fluff with a fork and allow to cool.
To a food processor, add dates and pulse until they are well broken down. Add the cooked quinoa, flax mixture, oat flour, peanut butter, cacao powder, banana and salt. Run the processor on high and soon a dough ball will form. Transfer to a mixing bowl. Line a baking sheet with parchment paper.
Pick off about 1 1/2"-2" of dough and roll it in your hands. It should be a little smaller than a golf ball.
Press until you get a thick patty and soften out the edges with your hands.
Place on baking sheet and repeat.
Take a fork and give each cookie that peanut butter pattern on top. The pressing will flatten the cookie even more and that's ok. This is why we didn't make them too flat in the beginning.
Bake for 25 minutes. Allow to cool and enjoy!
Makes 14-16 cookies.
_____
Check out our latest classes: https://www.cpbl-stl.com/classes
To purchase some of the kitchen tools I use here https://tinyurl.com/yyacj2cg
To subscribe to the weekly Plant-based Quick Cooking Show: https://www.youtube.com/channel/UCExWwoBh6fvdOgghkjh0U1A?
Thanks for all of your support!
Video
How did this recipe work out?
Leave a Reply