Saucy Buffalo Cauliflower and Ranch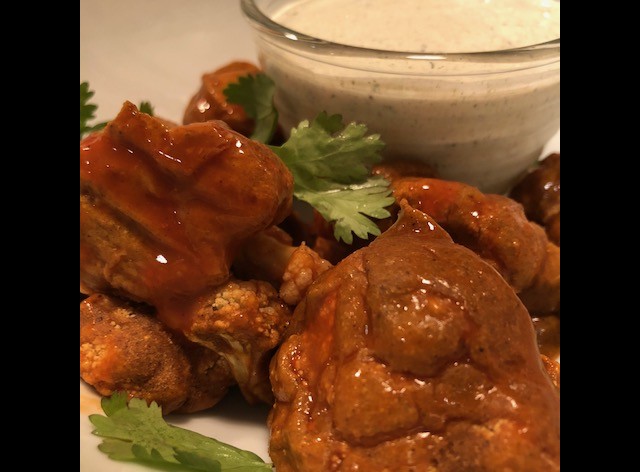 Saucy! Hot! Spicy! And, oh, so addictive!
Ingredients
Setup
1 head cauliflower, cut into bite sized florets
1 cup chickpea flour
2 tablespoons onion powder
2 tablespoons garlic powder
2 tablespoons dried oregano
1 tablespoon ground cumin
1/2 teaspoon cayenne
1/2 tablespoon tomato paste
1/4 cup Frank's Buffalo Sauce
3/4 cup water
1/4-1/3 cup Frank's Buffalo Sauce (for tossing)
fresh Italian parsley
Directions
Preheat oven to 425- degrees - F.
Line a baking pan with parchment paper.
To a blender add the chickpea flour, spices, tomato paste and buffalo sauce. Begin to blend and drizzle in the water. Turn the blender on high and allow all the ingredients to mix well. Transfer to a bowl.
Dip the cauliflower florets into the mix and shake off any extra. Place florets on to the parchment paper lined baking pan. Bake for 25-30 minutes. Allow to cool slightly and transfer to a large mixing bowl. Pour in Frank's Buffalo Sauce and toss well. Plate up, sprinkle parsley on top and serve with Heart Hemp Ranch.
Save time shopping!
How did this recipe work out?
Leave a Reply