Game Day Nachos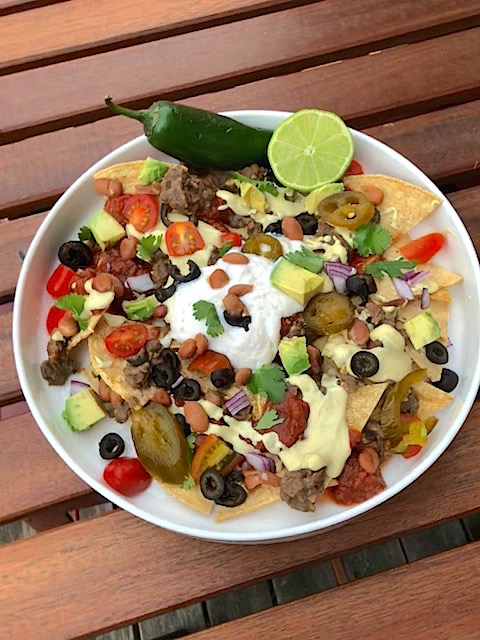 Just a big ol' heap of ooey-gooey messy delicious nachos that won't make you feel like crap later. Go team!
Ingredients
Setup
1 10-12 pack corn tortillas
SOUR "CREAM"
1 package of silken firm, light tofu
2 tablespoons soaked cashews
1 tablespoon white wine vinegar
3/4 teaspoon sea salt
RE-FRIED BEANS
1/2 red onion, minced
1 jalapeno, seeded and minced
3 garlic cloves, minced
2 14oz cans of pinto beans, drained and rinsed
1 tablespoon ground cumin
1/2 teaspoon sea salt
1 cup water
A scattering of the rest
fresh mini San Marzano tomatoes, cut into 4ths
black olives
pickled jalapenos
cilantro
red onion, minced
salsa of choice
1 avocado, cut into cubes
Juice of 1/2 lime
Directions
Pre-heat your oven to 400-degrees F.
Line a baking pan with parchment paper.
Cut the tortillas into 6 even triangles and in batches, place on the baking sheet. Do not overlap. Bake for 10-12 minutes. They will barely begin to turn brown and may still be a little soft when you take them from the oven. As they cool, they will become crispy. Set aside.
In a blender add the sour cream ingredients. Blend until creamy. Transfer to a sealed container and place in refrigerator. Make your Killer Queso and leave in blender.
In a large pre-heated skillet, add the onions and jalapeno. Bring the heat down to medium after 3-4 minutes and add the garlic. Continue to mix and add a tablespoon or two of water at a time if the vegetables begin to stick. Add in the beans and the cumin and salt. Add the rest of the water, mix and cover. Allow the mixture to cook for about 5 minutes, making sure there is plenty of water. Take a potato masher to the beans and mix well. You almost want this to be a little runny, so add more water as you need. Taste for flavor and adjust to your palate. Pull the heat to low.
On a large platter or plate, spread out your tortilla chips and top with the re-fried beans. Blend the queso in the blender again to get it warm and drizzle on the chips as well. Layer the rest of your ingredients as you like and top with sour cream. Squirt with a little fresh lime juice and enjoy!
How did this recipe work out?
Leave a Reply