Southwest Black Bean and Kale Quinoa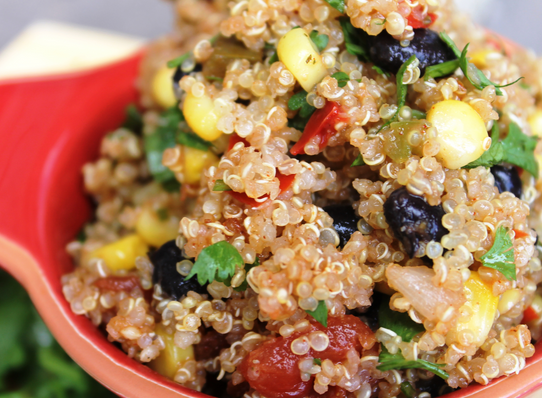 FEBRUARY IS HEART HEALTH MONTH:: Whip up this heart healthy one pot meal in less than 30 minutes and you can eat all week! This oil-free and gluten free plant based pot of perfection that includes immune supportive kale and fiber/protein packed quinoa and beans will have your tummy satisfied and that ticker of yours loving you right back. 
Ingredients
Setup
3 C + 2TBS vegetable broth
1 yellow onion, diced
2-3 garlic cloves, minced
1 ½ C quinoa, rinsed
1 C fresh or frozen corn
1 red bell pepper, diced
3/4 C carrots, shredded
1 ½ C (one 14 oz. can) black beans, rinsed
2 chipotle chilies in adobo sauce, minced
2 C kale, washed, stem removed and diced
S/P to taste
2 scallions (green parts only, sliced thin)
½ C cilantro, chopped (optional)
1 avocado, diced (optional)
Directions
Heat the 2 TBS of broth in a medium sized sauce pan over med-high heat and add the onion.  Once softened, add the garlic and quinoa.  Once the quinoa is lightly toasted, add the remaining broth, corn, bell pepper, carrots, beans, chilies and kale.  Season with salt/pepper to taste and cover sauce pan.  Bring quinoa to a boil and then down to a simmer and cover.  Stir every few minutes until both has evaporated (about 12-15 minutes).  Take quinoa off the heat, add scallions and cilantro (if using) and fluff with a fork. Fold in avocado (if using). Serve immediately or refrigerate and serve chilled.  
Prep time:10 minutes
Cook time: 15 minutes
Total time: 25 minutes
Serves six 1/2 cup servings
How did this recipe work out?
Leave a Reply