Smoky Avocado and Roasted Chickpea Salad (with a little help from Greg Brady!)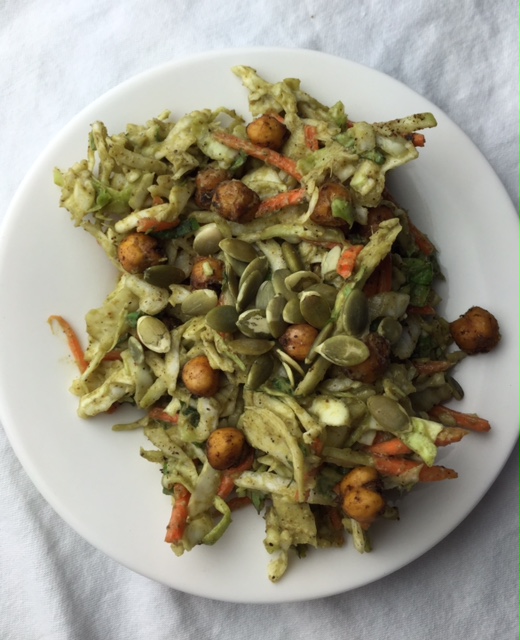 When you sign up to bring the salad to this weekend's BBQ, they will not be expecting this! Leave the grilling to someone else this year and you bring the full meal in your pretty little salad bowl, you'll bring it home empty...
Ingredients
Setup
1 14 oz can of chickpeas
1 tsp olive oil
1 tsp paprika
1/2 tsp cayenne
1/2 tsp sea salt
1 head of cabbage, shredded
2 carrots, shredded
1 avocado
juice of 1 lime
1 TBS liquid sweetener (I used coconut syrup)
1 tsp liquid smoke
1/2 TBS paprika
1/2 TBS chili powder
1/2 tsp salt
1/2 tsp ground black pepper
10-15 leaves of fresh basil, cut into thin ribbons
3 TBS pumpkin seeds
Directions
Preheat oven to 400 degrees F.
In a large bowl, add the olive oil, chickpeas, paprika, cayenne and salt.  Mix well. On a parchment paper lined rimmed baking sheet, bake for 45 minutes tossing every so often. 
To a food processor, add the avocado, lime juice, liquid sweetener, liquid smoke, and spices. Blend well, stopping a few times to scrape down the sides.  In a large mixing bowl, massage the avocado mixture into the cabbage and carrots.  Toss in the chickpeas and basil and gently fold.  Plate, sprinkle with pumpkin seeds and serve.
Prep time: 10 minutes
Cook time:45
Total time: 55-60 minutes
Video
How did this recipe work out?
Leave a Reply