Crunchy Baked Italian Tofu Sticks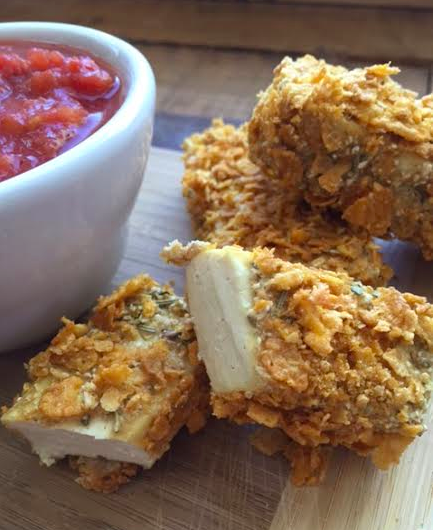 Crunchy on the outside and soft on the inside, these slightly cheesy and softly herbed tofu sticks are a favorite finger food minus all the oil and fat we used to find in the deep-fried chicken finger counterparts
Ingredients
Setup
2 cups whole rolled oats (I used gluten free)*
1/4 cup nutritional yeast
2 tablespoons dried oregano
1 tablespoon dried rosemary
1 tablespoon dried thyme
1/2 teaspoon sea salt
4 cups cornflakes, crushed using your hands
1.5 cups unsweetened almond milk
1 16 oz block of extra firm tofu, drained and water squeezed out
marinara of choice
Directions
Preheat your oven to 350-degrees F.
Add the oats to a blender and turn it on to low, slowing increasing speed to medium and then high as you form a fine flour. This should take about 8-10 seconds. Next add the spices and allow them to run through on medium until they are fully integrated. 
Set out three cereal-type sized bowls and transfer the flour into one of the bowls. Put the crushed corn flakes in to the second bowl and the almond milk into the last bowl. 
Cut the tofu in 10 even portions (any shape you like). One by one, submerge the tofu in the milk, then into the flour, back into the milk and finally into the cornflakes. Place on a wire wrack to allow setting to occur - this is an important step. 
When you have coated all the tofu pieces, line a baking sheet with parchment paper and transfer each piece on to the baking pan. Bake for 30 minutes, flipping each piece midway through the baking time. 
Allow tofu to cool and dip in your favorite marinara. **
NOTES
*I ground oats in my blender because I didn't have any flour on hand, you can simply use any flour you like and stir in the spices
**I blended a can of no-salt added plain diced tomatoes, a can of fire-roasted tomatoes, 1/4 cup sun-dried tomatoes, 2 tablespoons of balsamic vinegar and a pinch of salt.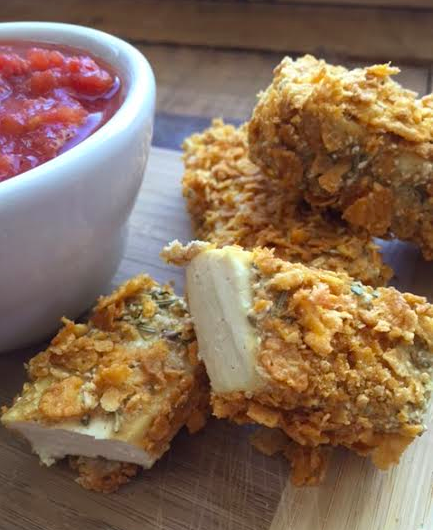 How did this recipe work out?
Leave a Reply