Crazy Bowls & Wraps Smokey Mediterranean Dressing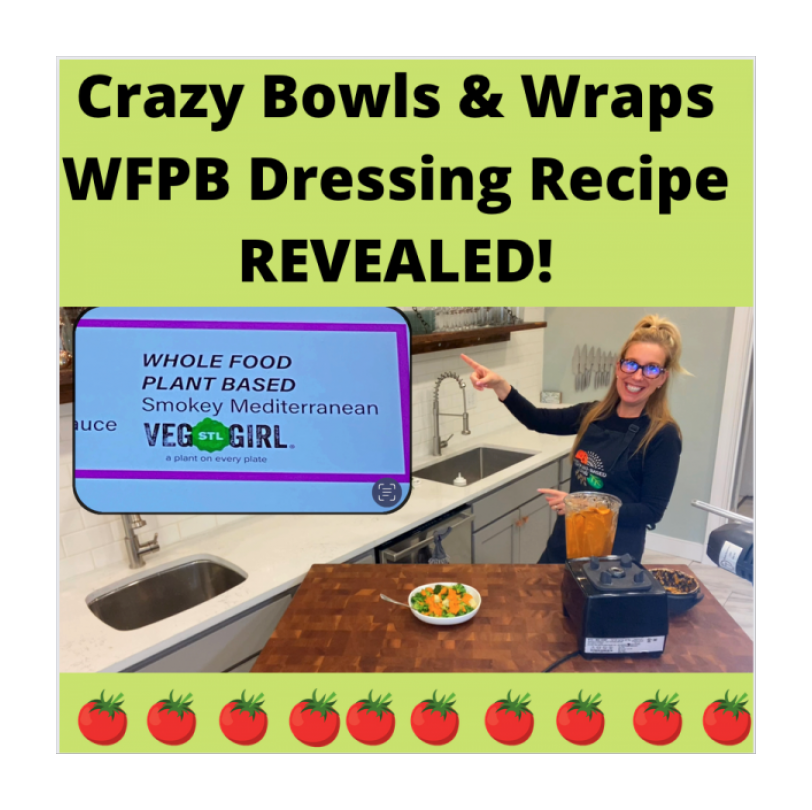 As a long-time fan of Crazy Bowls and Wraps restaurants, I was pretty excited when they asked me to collaborate and create a whole food, plant-based dressing for them! We've name it Smokey Mediterranean. It's a simple and very versatile dressing that also is a great sandwich spread, great for pitas, on burgers or even as a dip!
Ingredients
Setup
1 cup sundried tomatoes, not packed in water
juice of two limes (about 1/4 cup)
2 sprigs of fresh mint
3 tablespoons of tahini*
1 teaspoon dried oregano
pinch of salt/pepper
2 cups water, drizzle in for desired thickness
Directions
Add all the ingredients into a blender and as the machine is blending, drizzle in the water to thickness desired.
*Substitute 1/3 cup white cannellini beans for tahini to lower calories and add more fiber.
Makes 2 1/2 cups if using all the water.
I like mine very thick, simply add more water for a thinner dressing.
++This is the residential recipe as CB&W of course scales theirs to their restaurant needs.++
Many thanks to Crazy Bowls and Wraps for inviting me to collaborate!
###
Do you know about our STREAMING PLUS membership? 
Our membership is built like a streaming service - you get a full library of plant-based cooking classes to watch whenever you want. PLUS, you gain access to upcoming interactive virtual cooking classes and a monthly accountability group call.
As a member you get:
Complete library of all past virtual classes - stream them whenever you'd like!
Free access to upcoming virtual classes
Library of easy and quick recipes: 100 and growing
Access to private Facebook group
Monthly accountability check-in and support group Zoom call with Caryn
Quarterly "Ask the Doc" call with Dr. Jim Loomis, our Medical Director
20% off all virtual multi-week programming
A community of support
To learn more, please visit us here.
Video
How did this recipe work out?
Leave a Reply